To increase the efficiency of the front seat belts, the Fiat Punto is fitted with pretensioners. These devices "feel", through a sensor, that a violent crash is in progress and rewind the seat belts a few centimetres. In this way they ensure that the seat belt adheres perfectly to the wearer before the restraining action begins.
The seat belt locks to indicate that the device has intervened; the seat belt cannot be drawn back up even when guiding it manually.
IMPORTANT To obtain the highest degree of protection from the action of the pretensioning device, wear the seat belt keeping it firmly close to the chest and pelvis.
Front seat pretensioners activate only if front seat belts are properly fitted into buckles.
A small amount of smoke may be produced. This smoke is in no way toxic and presents no fire hazard.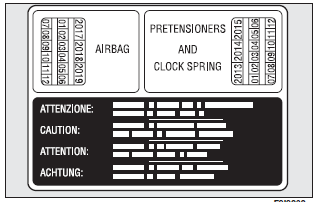 The pretensioner does not require any maintenance or greasing. Anything that modifies its original conditions invalidates its efficiency. If due to unusual natural events (floods, seas storm, etc.) the device has been affected by water and mud, it must necessarily be replaced.
WARNING
The pretensioner can only be used once. After a collision that has triggered it, have it replaced at a Fiat Dealership. The validity of the device is written on the plate located in the glove compartment. Contact Fiat Dealership to have pretensioners replaced as this date approaches.
Operations which lead to knocks, vibrations or localised heating (over 100°C for a maximum of 6 hours) in the area around the pretensioners may cause damage or trigger them. These devices are not affected by vibrations caused by irregularities of the road surface or low obstacles such as kerbs, etc. Contact a Fiat Dealership for any assistance.
Load limiters
To increase passenger's safety, front and rear (where provided) seat belt reels contain a load limiter which allows controlled sag in such a way as to dose the force acting on the shoulders during the belt restraining action in case of front crash.
See also:
To Set A Desired Speed
Turn the Electronic Speed Control ON. When the vehicle has reached the desired speed, press the SET (-) button and release. Release the accelerator and the vehicle will operate at the selected spe ...
If a bulb burns out
Modifications or repairs to the electrical system carried out incorrectly and without bearing the features of the system in mind can cause malfunctions with the risk of fire. You should have th ...
Information on standard screen
❒ Total odometer (A). ❒ Clock (B). With ignition key removed and front doors closed the display is off. With ignition key removed, when opening one of the front doors the display co ...