The Vehicle Identification Number (VIN) is found on the left front corner of the instrument panel, visible through the windshield. This number also appears engraved on the right front door sill under the sill scuff plate, on an adhesive label applied to the right door opening on the B-Pillar, on the vehicle registration and title.
Vehicle Identification Number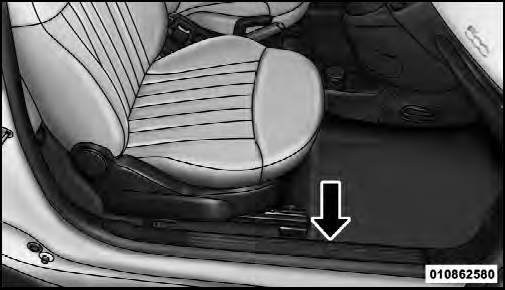 Stamped VIN Location

NOTE: It is illegal to remove or alter the VIN.
See also:
Stopping the engine
Turn the ignition to STOP while the engine is idling. IMPORTANT After a taxing drive, you should allow the engine to "catch its breath" before turning it off by letting it idle to allow the temper ...
Control buttons
To use the information the "Digital display", "Multifunction display" and "Reconfigurable multifunction display" are able to give (with the ignition key at MAR), you should firstly familiarise w ...
Checking the charge
The battery charge may be checked through the indicator (where fitted) set on the battery cover and acting according to the colour the indicator shows. If the battery is not fitted with electrol ...