1. Open the liftgate.
2. Remove the two screws and remove the tail lamp assembly.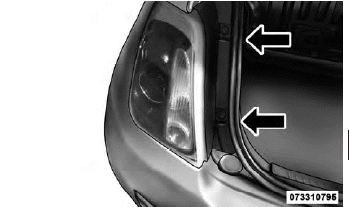 3. Unsnap backplate and separate from the lamp housing.
4. Remove the tail, stop, or turn signal bulbs by pushing them slightly and turning counter-clockwise.
5. Remove the backup lamp bulb by pulling straight out.
6. Replace lamps as required and reinstall lamp.
See also:
29. Speedometer
The Speedometer shows the vehicle speed in miles per hour (mph) and/or kilometers per hour (km/h). ...
Sidelights and low beams
(green) FOLLOW ME HOME (green) Side/taillights and low beams The warning light turns on when side/taillights or low beams are turned on. Follow me home The warning light will turn when this dev ...
9. Air Bag Warning Light
This light will turn on for four seconds as a bulb check when the ignition switch is first turned to ON/RUN. If the light is either not on during starting, stays on, or turns on while driving, h ...