1. Turn the steering wheel completely to the left or right.
2. Open the wheel housing access door.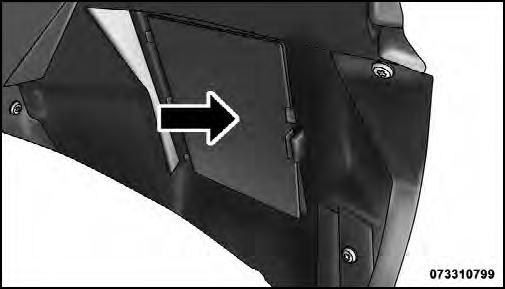 3. Remove the plastic cap from the back of the lamp housing.
4. Rotate bulb/socket counter-clockwise.
5. Remove the bulb and replace as needed.
6. Install the bulb into socket, and rotate bulb/socket clockwise into lamp locking it in place.
7. Reinstall the plastic cap.
See also:
Front And Side Impact Sensors
In front and side impacts, impact sensors can aid the ORC in determining appropriate response to impact events. ...
Wind Buffeting
Wind buffeting can be described as the perception of pressure on the ears or a helicopter-type sound in the ears. Your vehicle may exhibit wind buffeting with the windows down, or the sunroof (if ...
Digital display
УSTANDARDФ SCREEN fig. 38 The standard screen shows the following indications: A - Headlight aiming position display (with dipped beam headlights on). B - Clock (always displayed, also with key rem ...