1. Turn the steering wheel completely to the left or right.
2. Open the wheel housing access door.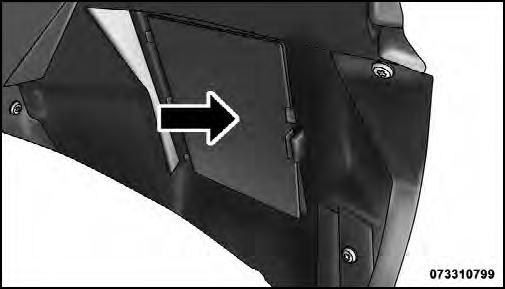 3. Remove the plastic cap from the back of the lamp housing.
4. Rotate bulb/socket counter-clockwise.
5. Remove the bulb and replace as needed.
6. Install the bulb into socket, and rotate bulb/socket clockwise into lamp locking it in place.
7. Reinstall the plastic cap.
See also:
Air Bag Warning Light
You will want to have the air bags ready to inflate for your protection in a collision. The Air Bag Warning Light monitors the internal circuits and interconnecting wiring associated with air ba ...
How to warm up the engine after it has just started (petrol and diesel versions)
Proceed as follows: ❒ Drive off slowly, letting the engine turn at medium revs. Do not accelerate abruptly; ❒ Do not drive at full performance for the initial kilometres. Wait until ...
Bonnet
To open the bonnet This should only be done when the vehicle is stationary. Before opening the bonnet, check the windscreen wiper arms are not lifted from the windscreen. 1) Pull the yellow leve ...