1. Turn the steering wheel completely to the left or right.
2. Open the wheel housing access door.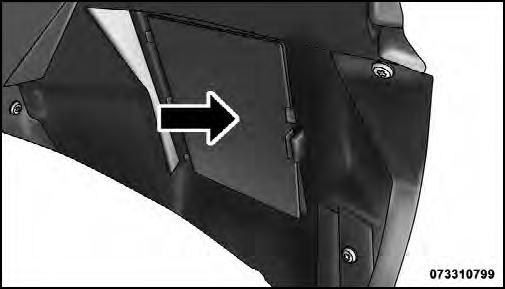 3. Remove the plastic cap from the back of the lamp housing.
4. Rotate bulb/socket counter-clockwise.
5. Remove the bulb and replace as needed.
6. Install the bulb into socket, and rotate bulb/socket clockwise into lamp locking it in place.
7. Reinstall the plastic cap.
See also:
Electronic control units
When the vehicle is being used normally, special measures are not necessary. The following instructions must be followed very carefully, however, if you work on the electrical system or in cases wh ...
Handbrake
The handbrake lever is located between the two front seats. Pull the handbrake lever upwards until the car cannot be moved. Four or five clicks are generally enough when the car is on level ground ...
Changing the battery
If required, replace the battery with a genuine spare part having the same specifications. If a battery with different specifications is fitted, the service intervals given in the "Service schedule ...