1. Turn the steering wheel completely to the left or right.
2. Open the wheel housing access door.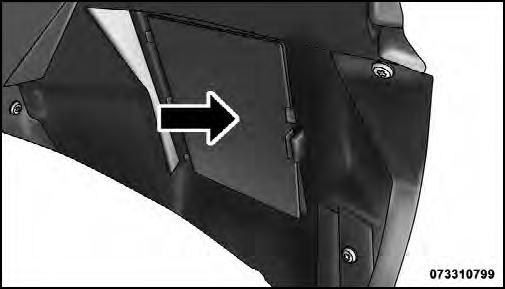 3. Remove the plastic cap from the back of the lamp housing.
4. Rotate bulb/socket counter-clockwise.
5. Remove the bulb and replace as needed.
6. Install the bulb into socket, and rotate bulb/socket clockwise into lamp locking it in place.
7. Reinstall the plastic cap.
See also:
Front passenger air bag deactivated
Warning light comes on on the dial when front passenger air bag is deactivated. With front passenger air bag on, turning the ignition key to MAR, warning light comes on flashing on the cluster fo ...
New engines improve efficiency
To demonstrate its technical excellence, at the heart of the 2012 Punto is a revamped range of five petrol and two diesel engines. Each offers a varying degree of driveability and class-leading ef ...
Transmission
Modifications or repairs to the fuel system that are not carried out properly or do not take the system's technical specifications into account can cause malfunctions leading to the risk of fire ...