There is a standard 12 Volt (13 Amp) power outlet, located in the floor console, for added convenience. This power outlet can power mobile phones, electronics and other low power devices.

Power Outlet
Power is available when the ignition switch is in the ON/RUN or START position. Insert the cigar lighter or accessory plug into the outlet for use. To preserve the heating element, do not hold the lighter in the heating position.

CAUTION!
• Do not exceed the maximum power of 160 Watts (13 Amps) at 12 Volts. If the 160 Watt (13 Amp) power rating is exceeded, the fuse protecting the system will need to be replaced.
• Power outlets are designed for accessory plugs only. Do not insert any other object in the power outlets as this will damage the outlet and blow the fuse. Improper use of the power outlet can cause damage not covered by your New Vehicle Limited Warranty.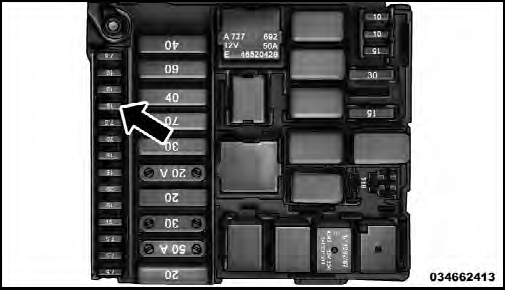 Power Outlet Fuse Location Underhood

WARNING!
To avoid serious injury or death:
• Only devices designed for use in this type of outlet should be inserted into any 12 Volt outlet.
• Do not touch with wet hands.
• Close the lid when not in use and while driving the vehicle.
• If this outlet is mishandled, it may cause an electric shock and failure.
• Many accessories that can be plugged in draw power from the vehicle's battery, even when not in use (i.e., cellular phones, etc.). Eventually, if plugged in long enough, the vehicle's battery will discharge sufficiently to degrade battery life and/or prevent the engine from starting.
• Accessories that draw higher power (i.e., coolers, vacuum cleaners, lights, etc.) will degrade the battery even more quickly. Only use these intermittently and with great caution.
• After the use of high power draw accessories, or long periods of the vehicle not being started (with accessories still plugged in), the vehicle must be driven a sufficient length of time to allow the generator to recharge the vehicle's battery.
See also:
Engine Oil Filter
The engine oil filter should be replaced with a new filter at every engine oil change. Engine Oil Filter Selection All of this manufacturer's engines have a full-flow type disposable oil filter. ...
Child lock
To prevent opening the sliding side doors from the inside. Engage by inserting the tip of the ignition key as shown in fig. 113 and turning it. Position 1 - device off. Position 2 - device on. T ...
Dipped beam headlights
To change the bulb, remove the protective cover (2), release the catch (A) and remove the bulb (B). ...