Rotate the end of the windshield wiper/washer lever upward to the first detent past the intermittent settings for intermittent wipe operation. With the front windshield wiper active, rotate the end of the windshield wiper/washer lever upward. The rear wiper will operate in the same mode as the front windshield wipers, but at half the frequency. When the transmission is shifted into REVERSE, the rear wiper will automatically operate at Low Speed and return to normal operation when the transmission is shifted out of REVERSE.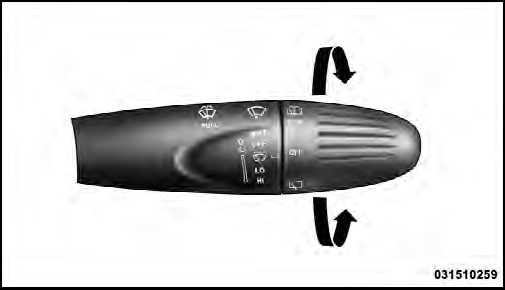 Rear Wiper Operation

NOTE: The windshield wipers/washers will only operate with the ignition in the ON/RUN position.
Rear Windshield Washer Operation
Push the windshield wiper/washer lever toward the instrument panel to activate the rear washer. Push and hold the lever for more than a half second and the wipers will activate automatically for three cycles after the lever is released.
See also:
9. Air Bag Warning Light
This light will turn on for four seconds as a bulb check when the ignition switch is first turned to ON/RUN. If the light is either not on during starting, stays on, or turns on while driving, h ...
Inefficient abs system
Turning the ignition key to MAR the warning light on the dial turns on, but it should go off after few seconds. The warning light turns on (on certain versions together with the message on th ...
Installing The LATCH – Compatible ChildRestraint System
We urge you to carefully follow the directions of the manufacturer when installing your child restraint. Not all child restraint systems will be installed as described here. Again, carefully foll ...