Rotate the end of the windshield wiper/washer lever upward to the first detent past the intermittent settings for intermittent wipe operation. With the front windshield wiper active, rotate the end of the windshield wiper/washer lever upward. The rear wiper will operate in the same mode as the front windshield wipers, but at half the frequency. When the transmission is shifted into REVERSE, the rear wiper will automatically operate at Low Speed and return to normal operation when the transmission is shifted out of REVERSE.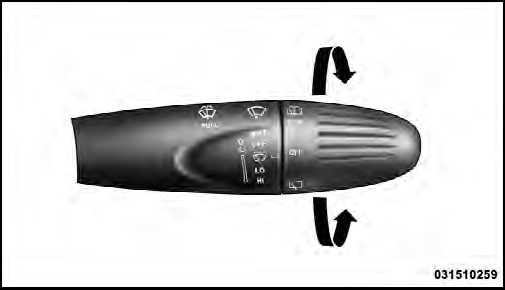 Rear Wiper Operation

NOTE: The windshield wipers/washers will only operate with the ignition in the ON/RUN position.
Rear Windshield Washer Operation
Push the windshield wiper/washer lever toward the instrument panel to activate the rear washer. Push and hold the lever for more than a half second and the wipers will activate automatically for three cycles after the lever is released.
See also:
Children Too Large For Booster Seats
Children who are large enough to wear the shoulder belt comfortably, and whose legs are long enough to bend over the front of the seat when their back is against the seatback, should use the lap/s ...
Door lockremote control
The remote control is built into the ignition key. Press button A-fig. 4 to lock and unlock the doors. Press button A to operate the system. LED B (where required) will flash while the transmitter ...
Parking sensors
The parking system detects and informs the driver (through an intermittent acoustic signal) about the presence of obstacles in the rear part of the car. ...