Rotate the end of the windshield wiper/washer lever upward to the first detent past the intermittent settings for intermittent wipe operation. With the front windshield wiper active, rotate the end of the windshield wiper/washer lever upward. The rear wiper will operate in the same mode as the front windshield wipers, but at half the frequency. When the transmission is shifted into REVERSE, the rear wiper will automatically operate at Low Speed and return to normal operation when the transmission is shifted out of REVERSE.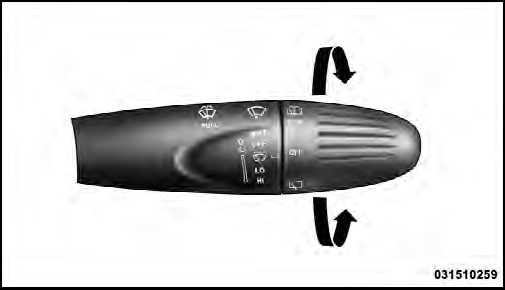 Rear Wiper Operation

NOTE: The windshield wipers/washers will only operate with the ignition in the ON/RUN position.
Rear Windshield Washer Operation
Push the windshield wiper/washer lever toward the instrument panel to activate the rear washer. Push and hold the lever for more than a half second and the wipers will activate automatically for three cycles after the lever is released.
See also:
Ignition switch
The key can be turned to 4 different positions: ❒ STOP: engine off, key can be removed, steering column locked. Certain electrical devices (e.g.: sound system, power windows, etc.) can wor ...
Number plate light
To replace a bulb, press the tab in the point shown in fig. 33 and remove the cluster. Turn the bulb holder Afig. 34 anticlockwise and remove bulb B. ...
Speed limit (Speed Lim.)
With this function it is possible to set the car speed limit which, if exceeded, automatically sounds a buzzer and makes the warning light è with the special message on the display (see "Wa ...