Rotate the end of the windshield wiper/washer lever upward to the first detent past the intermittent settings for intermittent wipe operation. With the front windshield wiper active, rotate the end of the windshield wiper/washer lever upward. The rear wiper will operate in the same mode as the front windshield wipers, but at half the frequency. When the transmission is shifted into REVERSE, the rear wiper will automatically operate at Low Speed and return to normal operation when the transmission is shifted out of REVERSE.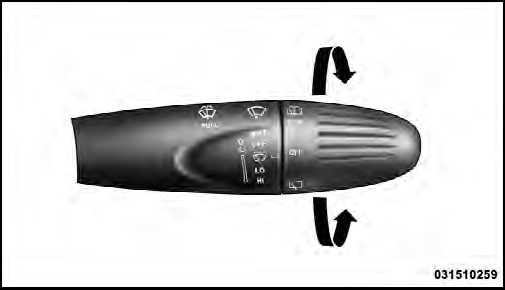 Rear Wiper Operation

NOTE: The windshield wipers/washers will only operate with the ignition in the ON/RUN position.
Rear Windshield Washer Operation
Push the windshield wiper/washer lever toward the instrument panel to activate the rear washer. Push and hold the lever for more than a half second and the wipers will activate automatically for three cycles after the lever is released.
See also:
Overview
Windows MobileЩ-based FIAT BLUE&MEЩ is a personal telematic system enabling you to use communication and entertainment applications expressly designed for use in the car. The BLUE&MEЩ sys ...
Supplemental Seat-Mounted Side Air Bag (SAB)Inflator Units
The Supplemental Seat-Mounted Side Air Bags (SAB) are designed to activate only in certain side collisions. The ORC determines if a side collision requires the side air bags to inflate, based on ...
Heating/climate control system
Version with central dashboard unit A - Fixed side vents - B - Adjustable side outlets - C - Fixed upper vent - D - Fixed central vent - E - Lower vents Version with central tunnel unit A - F ...