BLADES
Periodically clean the rubber part using special products; TUTELA PROFESSIONAL SC 35 is recommended.
If the rubber blades are bent or worn they should be replaced. In any case they should be changed once a year.
A few simple notions can reduce the possibility of damage to the blades:
– If the temperature falls to below zero, make sure the rubber blade is not frozen to the windscreen. If necessary, free it with a de-icing compound.
– Remove any snow that has settled on the glass: besides saving the blades you will avoid straining the electric windscreen wiper motor and causing it to overheat.
– Do not operate the windscreen or rear window wipers on dry glass.

Driving with worn wiper blades is a serious hazard, because visibility is reduced in bad weather.
Changing the windscreen wiper blade
1) Lift the windscreen wiper arm Afig. 23 off the glass and position the blade so as to form a right angle with the arm.
2) Press tab B on the retainer and remove the blade to be replaced from arm A .
3) Fit the new blade by inserting the tab into the special slot in the arm.
Make sure it is properly locked into place.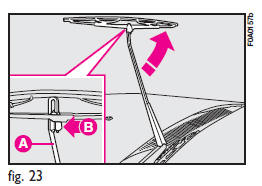 Changing the rear window wiper blade
1) Lift the cover A-fig. 24 and fig. 25 and dismantle the arm from the vehicle by unscrewing the nut B which holds it onto the knuckle.
2) Position the new arm correctly and fasten the nut.
3) Lower the cover.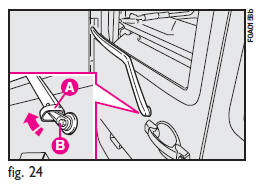 SPRAY NOZZLES
If there is no jet of liquid, first make sure that there is liquid in the reservoir: see "Checking fluid levels" in this section.
Then make sure that the holes in the nozzles are not clogged up. Use a pin for this if necessary.
The windscreen washer jets fig. 26 can be directed by adjusting the inclination of the nozzles. Direct the spray so that it reaches the highest point reached by the blades.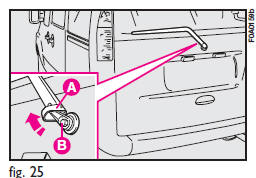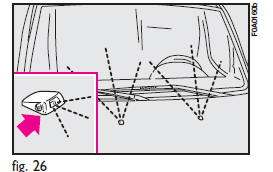 The rear window washer jet fig. 27 can be directed by adjusting the direction of the nozzles.
See also:
Rear Park Assist Sensors
The four Rear Park Assist sensors, located in the rear fascia/bumper, monitor the area behind the vehicle that is within the sensors' field of view. The sensors can detect obstacles, in the horizo ...
Capacities
(▲) For particularly hard climate conditions, we recommend use of a 60% PARAFLU UP and 40% demineralized water mixture. (❒) For particularly cold temperatures use SELENIA MULTIPOWE ...
Pinch Protect Override
If a known obstruction (ice, debris, etc.) prevents the sunroof from closing, press the switch forward and hold for approximately one second after the reversal occurs. This allows the sunroof to ...