To replace a bulb, press the tab in the point shown in fig. 33 and remove the cluster. Turn the bulb holder Afig. 34 anticlockwise and remove bulb B.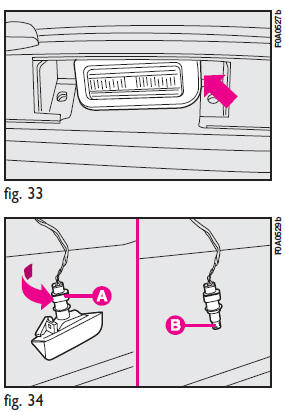 See also:
Front Seats Forward/Rearward Adjustment
The adjusting bar is located at the front of the seats, near the floor. Adjusting Bar While sitting in the seat, lift up on the bar and move the seat forward or rearward. Release the bar once t ...
Side bag
They are composed by two types of instant inflation and are housed in the back rest of the front seats. The task of the side air bags is to increase protection of the occupantsТ chest in the eve ...
How to warm up the engine after is has just started (petrol and diesel versions)
Ц Begin to move forward slowly letting the engine turn at medium revs. Do not accelerate abruptly. Ц Do not push the engine to its limit for the first few kilometers. You are recommended to wait u ...