To replace a bulb, press the tab in the point shown in fig. 33 and remove the cluster. Turn the bulb holder Afig. 34 anticlockwise and remove bulb B.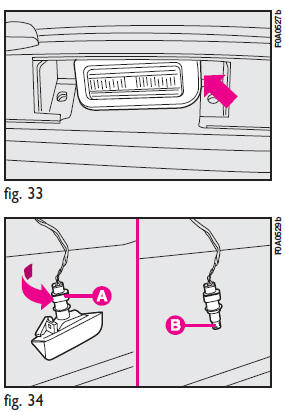 See also:
Adjusting the headlight beam
Proper adjustment of the headlight beams is of vital importance for your safety and comfort and also for the other road users. It is also a specific regulation of the road traffic code. To ensur ...
Floor Mat Safety Information
Always use floor mats designed to fit the footwell of your vehicle. Use only floor mats that leave the pedal area unobstructed and that are firmly secured so that they cannot slip out of position ...
Seat belts not fastened
(red) The warning light on the dial turns on glowing steadily with vehicle stationary and driver's or passenger's seat belt not fastened correctly. The warning light will turn on flashing when, ...