To change the halogen bulb, proceed as follows:
1) Remove the protection cover Bfig.
18 turning it counterclockwise;
2) Release clip A-fig. 20, remove connector B and remove the bulb C.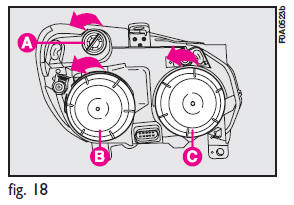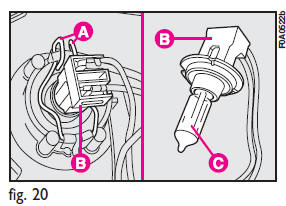 See also:
Chassis marking
It is printed on the passenger compartment floor, near the right-hand front seat. It can be reached by lifting the special flap in the carpeting and includes the following data: ❒ car mod ...
Provisions for the processing of a vehicle at the end of its life-cycle
For years now Fiat has been developing its global commitment towards the safeguarding and protection of the Environment through the continuous improvement of its production processes and the makin ...
If the battery is flat
First of all, read the "Vehicle maintenance" section for the steps to be taken to avoid the battery running down and to ensure it has a long life. IF THE BATTERY IS FLAT Charging should be slow at ...