To replace the cylinder proceed as follows fig. 16h:
– disconnect connection A; turn counter-clockwise the cylinder to replace and raise it; fit the new cylinder and turn it clockwise; connect connection A to the cylinder and fit the transparent tube B into the proper space.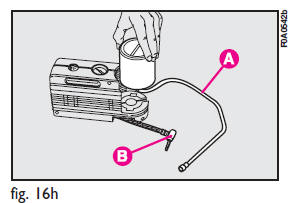 See also:
Front seat belt height adjustment
Always adjust the height of the seat belt to fit the person wearing it. This precaution could greatly reduce the risk of injury in case of collision. Correct adjustment is obtained when the belt ...
Front sidelights
To change the bulb, proceed as follows: 1) Remove the protection cover B-fig. 18 turning it counterclockwise; 2) Press tabs A-fig. 21, remove the bulb holder from housing B and remove the bulb C ...
Seat Bel
Inspect the belt system periodically, checking for cuts, frays, and loose parts. Damaged parts must be replaced immediately. Do not disassemble or modify the system. Front seat belt assemblies must ...