If the battery is flat, you can use another battery to start the engine. Its capacity must be the same or slightly greater than the flat battery.
Proceed as follows fig. 1:
1) Connect positive terminals (+) of the two batteries with a jump lead.
2) With a second lead, connect the negative terminal (–) of the auxiliary battery and to an ear thing point E on the engine or the gearbox of the vehicle to be started.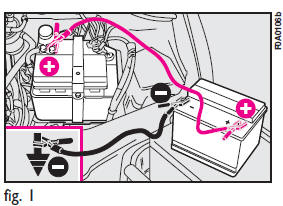 IMPORTANT
Do not directly connect the two negative terminals:
sparks could ignite the flammable gas from the battery. If the other battery is fitted in a vehicle, prevent accidental contacts between the metal parts of the two vehicles.
3) Start the engine.
4) When the engine has been started, remove the leads reversing the order above.
If the engine fails to start after a few attempts, do not keep turning the key but have the vehicle seen to at a Fiat Dealership.

Do not carry out this procedure if you lack experience;
if it is not done correctly it can cause very intense electrical discharges. In addition, the fluid contained in the battery is poisonous and corrosive.
Avoid contact with skin and eyes. You are also advised not to put naked flames or lighted cigarettes near the battery and not to cause sparks.

Under no circumstances should a battery charger be used to start the engine:
it could damage the electronic systems and in particular the ignition and injection control units.
See also:
Head restraints
Front seats According to the version, the head restraints can be: – fixed fig. 61; – adjustable in height fig. 61a. To adjust, move the head restraint upwards or downwards until it clicks. Make ...
Passenger's front air bag (where provided)
It consists of an instant-inflating cushion contained in a special recess in the dashboard; its volume is bigger than the driver's one. The driver's and passenger's front Air bags have been desig ...
Headlight adjustment abroad
The dipped beam headlights are adjusted for circulation in the country in which the vehicle is marketed. In countries with opposite circulation, to avoid glaring oncoming vehicles it is necess ...