According to versions, power window controls can be set on the dashboard (in central position) fig. 109, or on driver and passenger door panels fig. 109a. They only work with ignition key at MAR.
A - to open/close the front left-hand window;
B - to open/close the front right-hand window.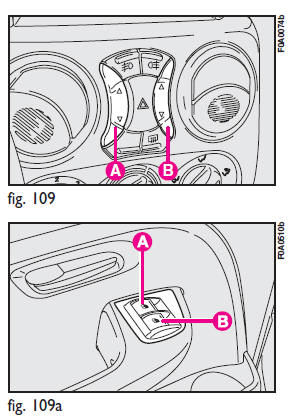 These operations are allowed for two minutes after turning the ignition key from MAR to STOP or removed only if the doors are closed.
On driver's side there is a button Afig.
109 for automatic operation.
Press the button for longer than one second: the window will stop when it reaches the end of its travel (or until the button is pressed again).

Improper use of the electric windows can be dangerous. Before and during their operation ensure that any passengers are not at risk from the moving glass either by personal objects getting caught in the mechanism or by being injured by it directly. Always remove the ignition key when you get out of the vehicle to prevent the electric windows being operated accidentally and constituting a danger to the people left in the vehicle.
See also:
Diesel engines
Use diesel fuel for motor vehicles complying with European specifications EN590 only. The use of other products or mixtures may damage the engine beyond repair and invalidate the warranty. If th ...
22. Electronic Stability Control (ESC) Activation /Malfunction Indicator Light
The ESC Activation/Malfunction Indicator Light in the instrument cluster will come on for four seconds when the ignition switch is turned to the ON/RUN position. If the ESC Activation/Malfunctio ...
Glove compartment
Operate handle (A) as shown by the arrow to open the compartment. ...