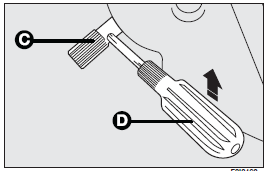 To change the bulb, proceed as follows:
❒ from inside the car, remove the upper plastic cover (A) with the screwdriver provided to reach fastener (B);
❒ from inside the boot, fit extension (C) on the light cluster fastening nuts;
❒ insert the provided screwdriver (D) in the hole in the extension and loosen the light cluster fastening nuts;
❒ withdraw the connector and loosen the fastening screws shown in the figure by the arrows;
❒ remove the bulbs by pushing them slightly and turning them anticlockwise (bayonet coupling).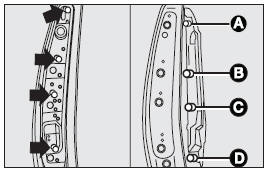 The bulbs are arranged inside the light unit as follows:
(A) - Side/taillight bulb
(B) - Brake light bulb
(C) - Direction indicator bulb
(D) - Bulb for:
❒ left-hand cluster: rear fog light
❒ right-hand cluster: reversing light.
See also:
2. Rear Defrost Button
Press and release this button to turn on the rear window defroster. This indicator will illuminate when the rear window defroster is on. The rear window defroster automatically turns off after 2 ...
Recommended Shift Speeds
To use your manual transmission for optimal fuel economy, it should be upshifted as listed in the following table ...
Radio Operation And Mobile Phones
Under certain conditions, the mobile phone being on in your vehicle can cause erratic or noisy performance from your radio. This condition may be lessened or eliminated by relocating the mobile ph ...