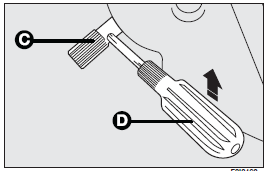 To change the bulb, proceed as follows:
❒ from inside the car, remove the upper plastic cover (A) with the screwdriver provided to reach fastener (B);
❒ from inside the boot, fit extension (C) on the light cluster fastening nuts;
❒ insert the provided screwdriver (D) in the hole in the extension and loosen the light cluster fastening nuts;
❒ withdraw the connector and loosen the fastening screws shown in the figure by the arrows;
❒ remove the bulbs by pushing them slightly and turning them anticlockwise (bayonet coupling).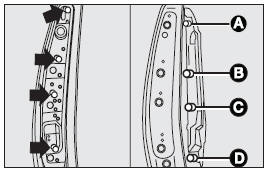 The bulbs are arranged inside the light unit as follows:
(A) - Side/taillight bulb
(B) - Brake light bulb
(C) - Direction indicator bulb
(D) - Bulb for:
❒ left-hand cluster: rear fog light
❒ right-hand cluster: reversing light.
See also:
Fuel consumption
The fuel consumption figures given in the table below are determined on the basis of the homologation tests set down by specific European Directives. Consumption values are defined by means of the ...
Body Lubrication
Locks and all body pivot points, including such items as seat tracks, door hinge pivot points and rollers, liftgate, tailgate, sliding doors and hood hinges, should be lubricated periodically with ...
Blades
Periodically clean the rubber part using special products; TUTELA PROFESSIONAL SC 35 is recommended. If the rubber blades are bent or worn they should be replaced. In any case they should be chan ...