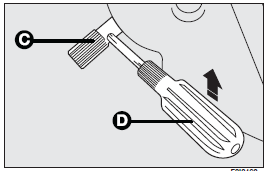 To change the bulb, proceed as follows:
❒ from inside the car, remove the upper plastic cover (A) with the screwdriver provided to reach fastener (B);
❒ from inside the boot, fit extension (C) on the light cluster fastening nuts;
❒ insert the provided screwdriver (D) in the hole in the extension and loosen the light cluster fastening nuts;
❒ withdraw the connector and loosen the fastening screws shown in the figure by the arrows;
❒ remove the bulbs by pushing them slightly and turning them anticlockwise (bayonet coupling).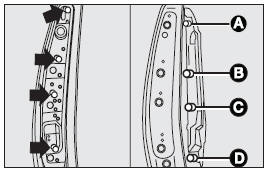 The bulbs are arranged inside the light unit as follows:
(A) - Side/taillight bulb
(B) - Brake light bulb
(C) - Direction indicator bulb
(D) - Bulb for:
❒ left-hand cluster: rear fog light
❒ right-hand cluster: reversing light.
See also:
Checking the levels
1. Engine oil 2. Battery 3. Brake fluid 4. Windscreen washer fluid 5. Engine coolant 6. Power steering fluid. Do not smoke while working in the engine compartment: the presence of flammable ...
Child Restraints
Everyone in your vehicle needs to be buckled up at all times, including babies and children. Every state in the United States, and all Canadian provinces, require that small children ride in prope ...
How to warm up the engine after is has just started (petrol and diesel versions)
Ц Begin to move forward slowly letting the engine turn at medium revs. Do not accelerate abruptly. Ц Do not push the engine to its limit for the first few kilometers. You are recommended to wait u ...