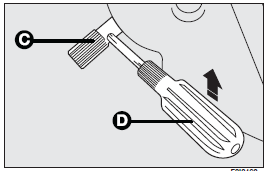 To change the bulb, proceed as follows:
❒ from inside the car, remove the upper plastic cover (A) with the screwdriver provided to reach fastener (B);
❒ from inside the boot, fit extension (C) on the light cluster fastening nuts;
❒ insert the provided screwdriver (D) in the hole in the extension and loosen the light cluster fastening nuts;
❒ withdraw the connector and loosen the fastening screws shown in the figure by the arrows;
❒ remove the bulbs by pushing them slightly and turning them anticlockwise (bayonet coupling).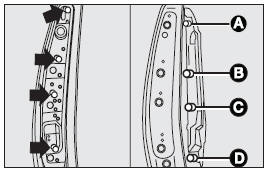 The bulbs are arranged inside the light unit as follows:
(A) - Side/taillight bulb
(B) - Brake light bulb
(C) - Direction indicator bulb
(D) - Bulb for:
❒ left-hand cluster: rear fog light
❒ right-hand cluster: reversing light.
See also:
Electronic Speed Control
When engaged, the Electronic Speed Control takes over accelerator operations at speeds greater than 25 mph (40 km/h). The Electronic Speed Control buttons are located on the right side of the steer ...
Radio transmitters and cellular telephones
Radio transceiver equipment (e.g.: etacs mobile phones, HAM radio systems and the like) shall not be used inside the vehicle unless a separate aerial is mounted on the roof. IMPORTANT The use of ...
Generic failure indication
(amber) The warning light turns on in the following circumstances. Engine oil pressure sensor failure The warning light comes on when the engine oil pressure sensor is faulty. Contact Fiat Deale ...