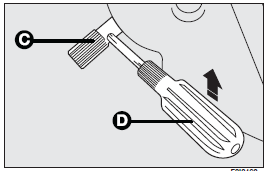 To change the bulb, proceed as follows:
❒ from inside the car, remove the upper plastic cover (A) with the screwdriver provided to reach fastener (B);
❒ from inside the boot, fit extension (C) on the light cluster fastening nuts;
❒ insert the provided screwdriver (D) in the hole in the extension and loosen the light cluster fastening nuts;
❒ withdraw the connector and loosen the fastening screws shown in the figure by the arrows;
❒ remove the bulbs by pushing them slightly and turning them anticlockwise (bayonet coupling).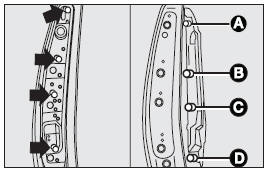 The bulbs are arranged inside the light unit as follows:
(A) - Side/taillight bulb
(B) - Brake light bulb
(C) - Direction indicator bulb
(D) - Bulb for:
❒ left-hand cluster: rear fog light
❒ right-hand cluster: reversing light.
See also:
Power Mirrors
The power mirror controls are located on the driver's door trim panel. Power Mirror Switches The power mirror controls consist of a mirror select switch and a four-way mirror control switch. To ...
Child lock
To prevent opening the sliding side doors from the inside. Engage by inserting the tip of the ignition key as shown in fig. 113 and turning it. Position 1 - device off. Position 2 - device on. T ...
Buzzer warnings
When the reverse gear is engaged a short acoustic signal is automatically activated. When an obstacle is detected an intermittent buzzer will sound ad follows: ❒ the sound frequency increases ...