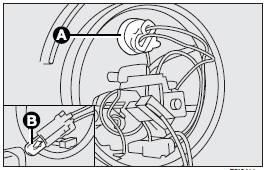 To change the bulb, remove the protective cover (1), remove connector (A) and remove the bulb (B).
See also:
Tailgate emergency opening
On versions with front seats that do not fold over, there is an opening device inside the tailgate to allow the occupants to evacuate the rear seats in an emergency. To unlock the tail age, operat ...
Materials Added To Fuel
All gasoline sold in the United States is required to contain effective detergent additives. Use of additional detergents or other additives is not needed under normal conditions and would result ...
Fan speed adjustment
Proceed as follows: ❒ open completely central vents and side outlets; ❒ turn knob (A) to the blue sector; ❒ slider (B) at ; ❒ turn knob (C) to the required speed; ...