Various types of bulbs are fitted to your car:
(A) All glass bulbs: these are pressed on. Pull to remove.
(B) Bayonet type bulbs: press the bulb, and turn counterclockwise to remove this type of bulb from its holder.
(C) Tubular bulbs: free them from their contacts to remove.
(D) Halogen bulbs: to remove, free it from the clip on its housing.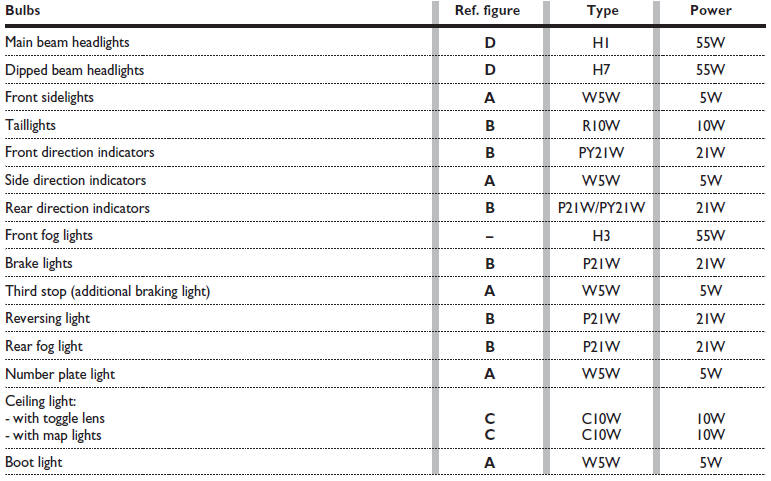 See also:
Wheel And Wheel Trim Care
All wheels and wheel trim, especially aluminum and chrome-plated wheels, should be cleaned regularly with a mild soap and water to prevent corrosion. To remove heavy soil, use MOPAR Wheel Cleaner ...
Gasoline/Oxygenate Blends
Some fuel suppliers blend unleaded gasoline with oxygenates such as 10% Ethanol, MTBE, and ETBE. Oxygenates are required in some areas of the country during the winter months to reduce carbon mono ...
Windscreen/rear window washer fluid
To top up, remove the cap A-fig. 12 and lift the telescopic filler B, until it clicks. Pour a mixture of water and TUTELA PROFESSIONAL SC 35, in the following concentrations: 30% of TUTELA PROFESS ...