The system consists of: sound system power wires, front and rear speaker power wires, aerial and respective power wire four front door speakers (2 tweeters and 2 woofers) two rear full-range speakers.
Speakers
❒ n. two tweeters, 40W max power each;
❒ n. two front woofers, 165 mm diameter, 40W max power each;
❒ n. two rear full-range speakers, 100 mm diameter, 30W max power each;
Sound system installation
Replace the compartment shown in the figure with the plate provided with the optional УSound system set-upФ in the boot to install the sound system.
To remove the compartment which is clipped into place, insert your hand in the compartment, press downwards and pull it out towards the inside of the car. Fit the compartment provided by clipping it into place. Then locate the electrical connection power wires.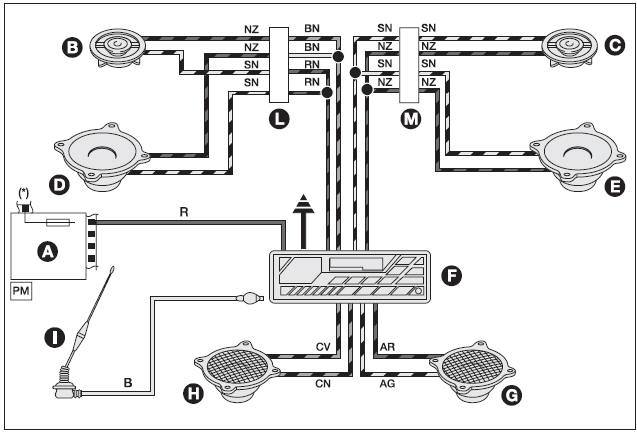 Wire colour coding:
B = White
N = Black
R = Red
AG = Light blue/Yellow
AR = Light blue/Red
BN = White/Black
CN = Orange/Black
CV = Orange/Green
NZ = Black/Purple
RN = Red/Black
SN = Pink/Black
Wiring diagram and additional branches
A. Fuse box
B. Tweeter on front left-hand door
C. Tweeter on front right-hand door
D. Woofer on front left-hand door
E. Woofer on front right-hand door
F. Radio
G. Rear left-hand full-range speaker
H. Rear left-hand full-left speaker
I. Aerial
L. Connection on front left-hand door
M. Connection on front righthand door
See also:
Older Children And Child Restraints
Children who are two years old or who have outgrown their rear-facing convertible child seat can ride forwardfacing in the vehicle. Forward-facing child seats and convertible child seats used in t ...
Quick tyre repair kit fix & go automatic
The quick tyre repair kit Fix & Go automatic is placed in the boot into a proper container. The kit includes fig. 16a: Ц bottle A containing sealer and fitted with: Ц filling pipe B Ц sticker ...
Engine coolant fluid
The coolant level shall be checked with cold engine and shall be included between the MIN and MAX mark on the reservoir. If the level is low, pour slowly a mixture of 50% distilled water and 50 ...