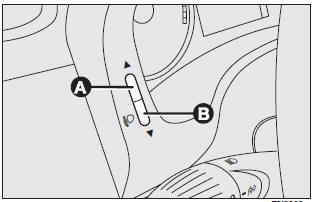 Proper adjustment of the headlight beams is of vital importance for your safety and comfort and also for the other road users. It is also a specific regulation of the road traffic code. To ensure you and other drivers have the best visibility conditions when travelling with the headlights on, the headlights must be set properly.
Contact Fiat Dealership to have the headlights properly adjusted. Check beam aiming every time the load carried changes.
See also:
Vehicle Modifications/Alterations
WARNING! Any modifications or alterations to this vehicle could seriously affect its roadworthiness and safety and may lead to an accident resulting in serious injury or death. ...
Engine
...
To memorise speed
Proceed as follows: ❒ turn the knurled ring (A) to ON and press the accelerator pedal to the required speed; ❒ turn the knurled ring (B) to (+) for at least three seconds, then relea ...