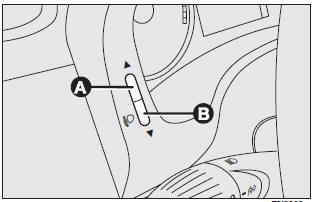 Proper adjustment of the headlight beams is of vital importance for your safety and comfort and also for the other road users. It is also a specific regulation of the road traffic code. To ensure you and other drivers have the best visibility conditions when travelling with the headlights on, the headlights must be set properly.
Contact Fiat Dealership to have the headlights properly adjusted. Check beam aiming every time the load carried changes.
See also:
External light failure
(amber) The warning light turns on when one of the following lights is failing: Ц sidelights Ц brake lights (third brake light excluded) Ц rear fog guards Ц direction indicators Ц numb ...
Heating/climate control system
Version with central dashboard unit A - Fixed side vents - B - Adjustable side outlets - C - Fixed upper vent - D - Fixed central vent - E - Lower vents Version with central tunnel unit A - F ...
Jump starting
If the battery is flat, you can use another battery to start the engine. Its capacity must be the same or slightly greater than the flat battery. Proceed as follows fig. 1: 1) Connect positive ter ...