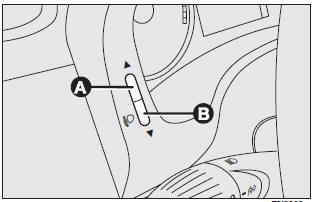 Proper adjustment of the headlight beams is of vital importance for your safety and comfort and also for the other road users. It is also a specific regulation of the road traffic code. To ensure you and other drivers have the best visibility conditions when travelling with the headlights on, the headlights must be set properly.
Contact Fiat Dealership to have the headlights properly adjusted. Check beam aiming every time the load carried changes.
See also:
Activation/deactivation (CITY function)
To connect/disconnect the CITY function, push the button located on the central tunnel . Activation of this function is indicated by the word CITY on the instrument panel (see figures beside). ...
Traction
When driving on wet or slushy roads, it is possible for a wedge of water to build up between the tire and road surface. This is known as hydroplaning and may cause partial or complete loss of vehi ...
Manual Operation
This system offers a full complement of manual override features. NOTE: Each of these features operates independently from each other. If any feature is controlled manually, temperature control wi ...