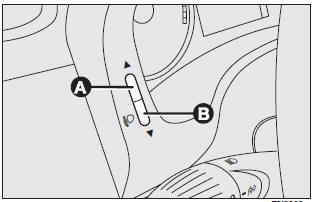 Proper adjustment of the headlight beams is of vital importance for your safety and comfort and also for the other road users. It is also a specific regulation of the road traffic code. To ensure you and other drivers have the best visibility conditions when travelling with the headlights on, the headlights must be set properly.
Contact Fiat Dealership to have the headlights properly adjusted. Check beam aiming every time the load carried changes.
See also:
Passenger Seat Storage Ч If Equipped
Some models may be equipped with storage under the front passenger seat. Pull outward on the latch to open the storage compartment. Passenger Seat Storage ...
Daytime Running Lights Ч If Equipped
To activate the Daytime Running Lights (DRL), rotate the end of the multifunction lever to the O symbol. NOTE: The low beams and side/taillights will not be on with DRL. The DRL function can be t ...
Air bag failure
(red) (where provided) Turning the ignition key to MAR the warning light turns on, but it should go off after few seconds. The warning light stays on glowing steadily if there is a failure in th ...