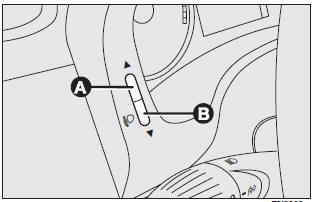 Proper adjustment of the headlight beams is of vital importance for your safety and comfort and also for the other road users. It is also a specific regulation of the road traffic code. To ensure you and other drivers have the best visibility conditions when travelling with the headlights on, the headlights must be set properly.
Contact Fiat Dealership to have the headlights properly adjusted. Check beam aiming every time the load carried changes.
See also:
General
The fuse is a protective device for the electric system: it comes into action (i.e. it cuts off) mainly due to a fault or improper action on the system. When a device does not work, check the eff ...
4. Low Fuel Light
When the fuel level reaches approximately 1.0 gallon (3.8L) this light will turn on, and remain on until fuel is added. ...
Heating
Proceed as follows: ❒ rotate knob (A) (pointer on ) completely to the right; ❒ turn knob (C) to the required speed; ❒ move knob (D) to: to warm the feet and at the same ...