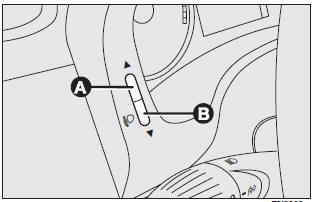 Proper adjustment of the headlight beams is of vital importance for your safety and comfort and also for the other road users. It is also a specific regulation of the road traffic code. To ensure you and other drivers have the best visibility conditions when travelling with the headlights on, the headlights must be set properly.
Contact Fiat Dealership to have the headlights properly adjusted. Check beam aiming every time the load carried changes.
See also:
Recline Adjustment
The recline adjustment lever is located on the inboard side of the seat. To recline the seatback, lift up the recline lever, lean back until the desired position has been reached, and release the ...
Power Steering
The standard power steering system will give you good vehicle response and increased ease of maneuverability in tight spaces. The system will provide mechanical steering capability if power assist ...
Floor Mode
Air comes from the floor outlets. Aslight amount of air is directed through the defrost and side window demister outlets. Bi-Level Air is directed through the panel and floor outlets. Press an ...