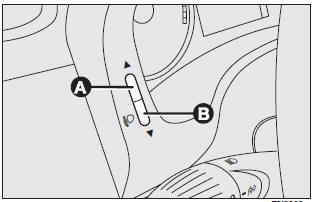 Proper adjustment of the headlight beams is of vital importance for your safety and comfort and also for the other road users. It is also a specific regulation of the road traffic code. To ensure you and other drivers have the best visibility conditions when travelling with the headlights on, the headlights must be set properly.
Contact Fiat Dealership to have the headlights properly adjusted. Check beam aiming every time the load carried changes.
See also:
Power Mirrors
The power mirror controls are located on the driver's door trim panel. Power Mirror Switches The power mirror controls consist of a mirror select switch and a four-way mirror control switch. To ...
GROUP 2
Starting from 15 kg to 25 kg in weight, children may be restrained directly by the car belts. The only function of the seat is to position the child correctly in relation to the belts, so that t ...
How To Disengage The Automatic Locking Mode
Unbuckle the combination lap/shoulder belt and allow it to retract completely to disengage the Automatic Locking Mode and activate the vehicle sensitive (emergency) locking mode. WARNING! • The ...