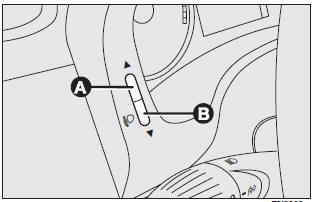 Proper adjustment of the headlight beams is of vital importance for your safety and comfort and also for the other road users. It is also a specific regulation of the road traffic code. To ensure you and other drivers have the best visibility conditions when travelling with the headlights on, the headlights must be set properly.
Contact Fiat Dealership to have the headlights properly adjusted. Check beam aiming every time the load carried changes.
See also:
Lowering The Power Top
Press the top open button approximately one second for the partially open position. Press the top open button for approximately one second a second time to fully open the convertible top. ...
Cigar lighter
Press button (A) with ignition key at MAR. After approx. 15 seconds it will return to its initial position and is ready for use. IMPORTANT Always check that the cigar lighter has turned off. IM ...
Front sidelights
To change the bulb, remove the protective cover (1), remove connector (A) and remove the bulb (B). ...