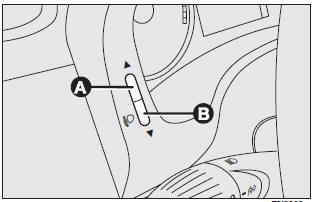 Proper adjustment of the headlight beams is of vital importance for your safety and comfort and also for the other road users. It is also a specific regulation of the road traffic code. To ensure you and other drivers have the best visibility conditions when travelling with the headlights on, the headlights must be set properly.
Contact Fiat Dealership to have the headlights properly adjusted. Check beam aiming every time the load carried changes.
See also:
Reformulated Gasoline
Many areas of the country require the use of cleaner burning gasoline referred to as "Reformulated Gasoline." Reformulated gasoline contains oxygenates and are specifically blended to reduce vehic ...
Spare Tire Removal
The spare tire is stowed to the underbody below the cargo area. 1. Remove the plug located in the rear cargo area. Winch Access Plug 2. Fit the wrench tool over the drive nut. Use the wrench to ...
With map reading lights
Press switch A-fig. 90 to switch the lights on and off. Switch B operates the map-reading light. According to the position, you can have the following conditions: – switch A pressed at the centre ...