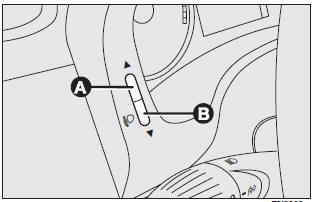 Proper adjustment of the headlight beams is of vital importance for your safety and comfort and also for the other road users. It is also a specific regulation of the road traffic code. To ensure you and other drivers have the best visibility conditions when travelling with the headlights on, the headlights must be set properly.
Contact Fiat Dealership to have the headlights properly adjusted. Check beam aiming every time the load carried changes.
See also:
Manual Heating And Air Conditioning
Manual Temperature Control (MTC) 1. Temperature Control Rotate this control to regulate the temperature of the air inside the passenger compartment. Rotating the dial to the left into the blue ...
Freeing A Stuck Vehicle
If your vehicle becomes stuck in mud, sand or snow, it can often be moved by a rocking motion. Turn your steering wheel right and left to clear the area around the front wheels. Then shift back an ...
Cold Weather Operation
To prevent possible engine damage while starting at low temperatures, this vehicle will inhibit engine cranking when the ambient temperature is less than Ц22∞ F (Ц30∞ C) and the oil temperature se ...