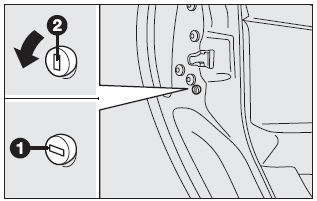 To prevent opening the rear doors from the inside.
This device can be engaged only with doors open:
❒ position 1 - engaged (door locked);
❒ position 2 - disengaged (door openable from inside).
The device is engaged even if the doors are unlocked by the centralised system.
IMPORTANT Always use the lock when transporting children.
IMPORTANT After engaging the lock, check by trying to open a rear door with the internal handle.
See also:
Underhood Fuses
The Front Distribution Unit is located on the right side of the engine compartment, next to the battery. To access the fuses, press the release tabs and remove the cover. Front Distribution ...
General information
The front and/or side airbags can be triggered if the vehicle is subjected to strong knocks or impacts underneath, e.g. violent crashes into steps, kerbs or fixed projections from the ground, fall ...
Cellular phone set-up
The system set-up, combined with radio consists of: ❒ dual-purpose aerial (sound system + cellular phone 900/1800 MHz), on the car roof; ❒ dual-purpose connection wires and ten-pin c ...