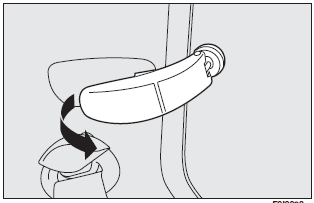 The windows open outwards:
❒ move the lever as shown in the figure;
❒ push the lever outwards to open the window completely;
❒ push the lever back until it clicks.
To close the windows, pull the lever to the opposite direction until it clicks.
See also:
4. Low Fuel Light
When the fuel level reaches approximately 1.0 gallon (3.8L) this light will turn on, and remain on until fuel is added. ...
Jump starting
If the battery is flat, it is possible to start the engine using an auxiliary battery with the same capacity or a little higher than the flat one. Proceed as follows: ❒ Connect positive ter ...
Installing the tow hook
The towing device should be fastened to the body by specialised personnel according to any additional and/or integrative information supplied by the Manufacturer of the device. The towing device ...