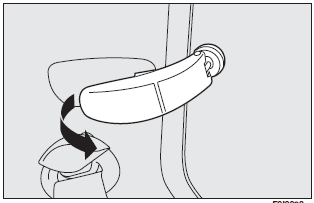 The windows open outwards:
❒ move the lever as shown in the figure;
❒ push the lever outwards to open the window completely;
❒ push the lever back until it clicks.
To close the windows, pull the lever to the opposite direction until it clicks.
See also:
Exhaust Gas
WARNING! Exhaust gases can injure or kill. They contain carbon monoxide (CO), which is colorless and odorless. Breathing it can make you unconscious and can eventually poison you. To avoid breath ...
19. Engine Temperature Warning Light
This light warns of an overheated engine condition. The engine coolant temperature indicator will illuminate and a single chime will sound after reaching a set threshold. If the light turns on w ...
Loose Fuel Filler Cap Message
After fuel has been added, the vehicle diagnostic system can determine if the fuel filler cap is possibly loose, improperly installed, or damaged. If the system detects a malfunction, the УgASCAPФ ...