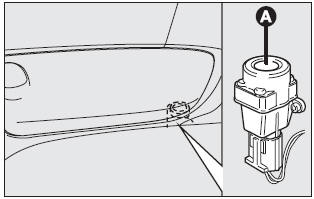 It is located under the dashboard on the front right-hand door pillar and it comes into operation in the case of an accident to block the supply of fuel thereby stopping the engine.
Carefully inspect the car to find fuel leaks, e.g. in the engine compartment, under the car or near the tank.
If no fuel leaks are found and the car can be started again, press button (A) to reset the fuel system and the lights.
After a crash, remember to turn the ignition key to STOP to prevent battery run-down.
WARNING
If, after a crash, you smell fuel or see leaks from the fuel system, do not reset the switch to avoid fire risk.
See also:
(A) Whenever You Stop To Use TIREFIT
1. Pull over to a safe location and turn on the vehicle's Hazard Warning flashers. 2. Verify that the valve stem (on the wheel with the deflated tire) is in a position that is near to the ground. ...
Restoring the use of the rear seat
Versions with single seat Perform operations in a reverse order with respect to what previously described for the boot extension operation. To prevent buckles from remaining positioned below th ...
Rev counter
Rev. counter B-fig. 33 - 34 shows engine rpm. IMPORTANT The electronic system progressively blocks fuel flow to prevent engine from overrevving. This will lead to a progressive loss of engine po ...