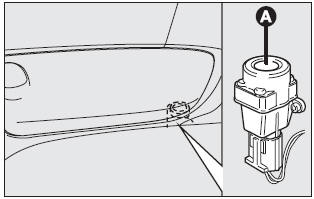 It is located under the dashboard on the front right-hand door pillar and it comes into operation in the case of an accident to block the supply of fuel thereby stopping the engine.
Carefully inspect the car to find fuel leaks, e.g. in the engine compartment, under the car or near the tank.
If no fuel leaks are found and the car can be started again, press button (A) to reset the fuel system and the lights.
After a crash, remember to turn the ignition key to STOP to prevent battery run-down.
WARNING
If, after a crash, you smell fuel or see leaks from the fuel system, do not reset the switch to avoid fire risk.
See also:
Handbrake
The handbrake lever is located between the two front seats. Pull the handbrake lever upwards until the car cannot be moved. Four or five clicks are generally enough when the car is on level ground ...
Capacities
(❒) For use with very cold temperatures we recommend using SELENIA PERFORMER MULTIPOWER SAE 5W-30. ...
20. Brake Warning Light
This light monitors various brake functions, including brake fluid level and parking brake application. If the Brake Warning Light turns on it may indicate that the parking brake is applied, tha ...