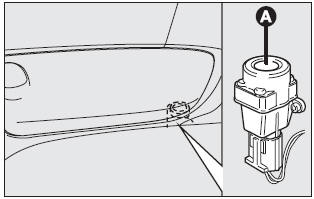 It is located under the dashboard on the front right-hand door pillar and it comes into operation in the case of an accident to block the supply of fuel thereby stopping the engine.
Carefully inspect the car to find fuel leaks, e.g. in the engine compartment, under the car or near the tank.
If no fuel leaks are found and the car can be started again, press button (A) to reset the fuel system and the lights.
After a crash, remember to turn the ignition key to STOP to prevent battery run-down.
WARNING
If, after a crash, you smell fuel or see leaks from the fuel system, do not reset the switch to avoid fire risk.
See also:
Service (Service)
Through the "Service" function it is possible to receive information connected with correct vehicle maintenance. The "Service schedule" includes vehicle maintenance every 20,000 km (or 12,000 ...
Tailgate closing
To close, lower the tailgate until the lock clicks. If the boot is not shut properly the warning light ´ comes on together with the message on reconfigurable multifunction display (where prov ...
Cellular phone set-up
The system set-up, combined with radio consists of: ❒ dual-purpose aerial (sound system + cellular phone 900/1800 MHz), on the car roof; ❒ dual-purpose connection wires and ten-pin c ...