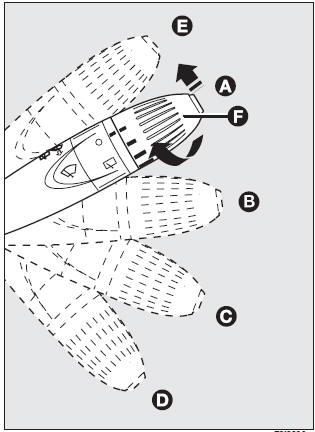 Move the right-hand stalk downwards by one position.
The activation of the rain sensor is signalled by a control acquisition "stroke".
IMPORTANT Keep clean the glass in the sensor area.
Turning the knurled ring (F) it is possible to increase the sensitivity of the rain sensor, obtaining a quicker change from stationary (no wiping) when the windscreen is dry, to first continuous speed (continuous, slow). The increase of the sensitivity of the rain sensor is signalled by a control and acquisition "cycle". Operating the windscreen washer with the rain sensor activated the normal washing cycle is performed at the end of which the rain sensor resumes its normal automatic function.
See also:
Refuelling
To guarantee full tank filling, carry out two refueling operations after the first click of the fuel delivery gun. Avoid further topping up operations that could cause damages to the fuel system. ...
"Consumption unit" (Consump.)
This function enables to select the unit of measure for fuel consumption (km/l, l/100 km or mpg) according to the previously set distance unit (km or mi, see previous paragraph "Distance unit"). T ...
To increase the memorised speed
The speed memorised can be increased in two ways: ❒ pressing the accelerator and then memorising the new speed reached; or ❒ momentaneously turning the ring (B) to (+). Each pulse of ...