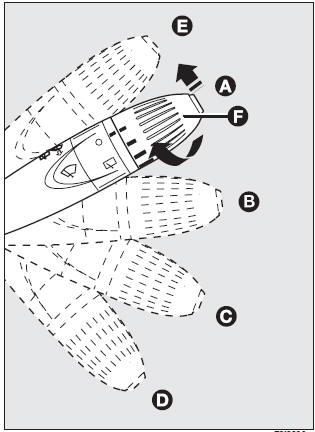 Move the right-hand stalk downwards by one position.
The activation of the rain sensor is signalled by a control acquisition УstrokeФ.
IMPORTANT Keep clean the glass in the sensor area.
Turning the knurled ring (F) it is possible to increase the sensitivity of the rain sensor, obtaining a quicker change from stationary (no wiping) when the windscreen is dry, to first continuous speed (continuous, slow). The increase of the sensitivity of the rain sensor is signalled by a control and acquisition УcycleФ. Operating the windscreen washer with the rain sensor activated the normal washing cycle is performed at the end of which the rain sensor resumes its normal automatic function.
See also:
Headlights
Rotate the end of the multifunction lever upward to the first detent for headlight operation. Headlight Operation NOTE: When the headlights are turned on, the Daytime Running Lights will be ...
ABS
The vehicle can be fitted with an ABS braking system, which prevents the wheels from locking when braking, makes the most of road grip and gives the best control when emergency braking under diffi ...
Snow chains
Use of snow chains should be in compliance with local regulations. Snow chains should only be applied to the driving wheels (front wheels). Refer to the following table for information on the wheel ...