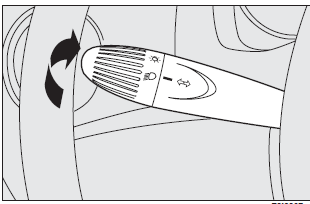 When the knurled ring is at
push the lever towards the dashboard (stable position).
The warning light

on the instrument cluster will come on.
Pulling the lever towards the steering wheel again, the main beams are turned off and the dipped beams on.
See also:
Inflating procedure
Put on the protection gloves provided together with quick tyre repair kit. – Pull up the handbrake. Loosen tyre inflation valve cap, take out the filler hose A-fig. 16c and screw the ring nut B-fi ...
Materials Added To Fuel
All gasoline sold in the United States is required to contain effective detergent additives. Use of additional detergents or other additives is not needed under normal conditions and would result ...
Starting procedure for diesel versions
Proceed as follows: ❒ Ensure that the handbrake is up; ❒ Put the gear lever into neutral; ❒ Turn the ignition key to MAR. The warning lights and will light up on the instru ...