Through the "Service" function it is possible to receive information connected with correct vehicle maintenance.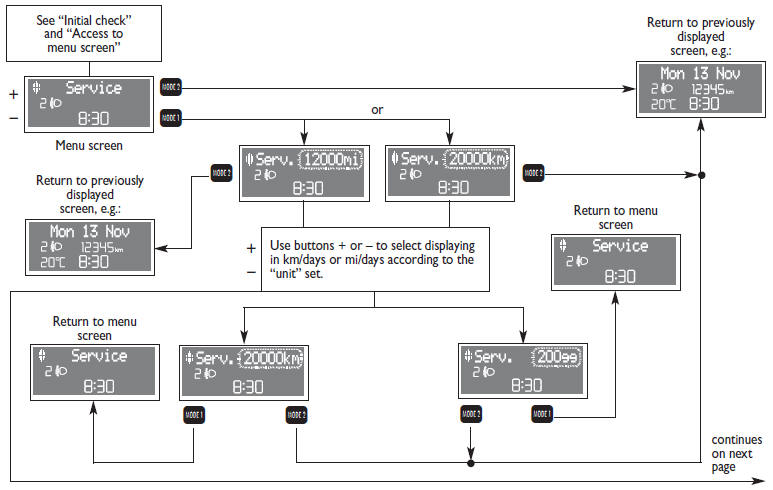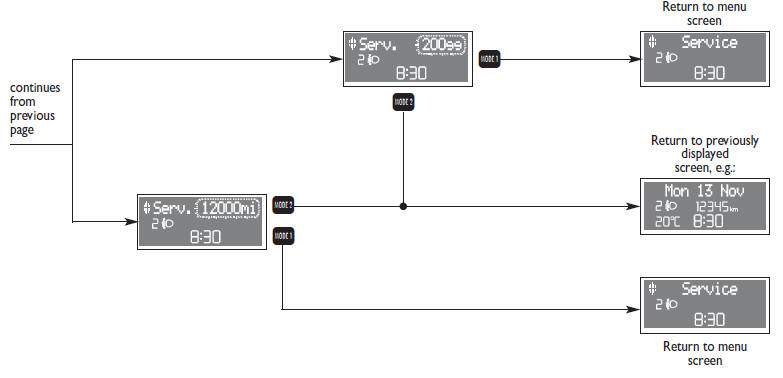 The "Service schedule" includes vehicle maintenance every 20,000 km (or 12,000 mi) or every year; this is shown automatically, with the ignition key at MAR, starting from 2,000 km (or 1,240 miles) or 30 days from this deadline and it is shown again every 200 km (or 124 mi) or 3 days. For 1.3 Multijet versions, see "Car Maintenance" in section "Service schedule to change engine oil and filter and air cleaner. Below 200 km service indications are proposed at shorter intervals. Service intervals will be displayed in km or mi according to the unit set. When a programmed maintenance interval (coupon) is near to come, turning the ignition key to MAR, will display the message "Service" followed by the number of km, or days to go before car servicing. "Scheduled servicing" message is displayed in km, miles or days according to the approaching service interval. Contact a Fiat Dealership to carry out any service operation provided by the "Service schedule" or "Annual inspection plan", and to reset the display.
See also:
Capacities
(▲) For particularly hard climate conditions, we recommend use of a 60% PARAFLU UP and 40% demineralized water mixture. (❒) For particularly cold temperatures use SELENIA MULTIPOWE ...
Provisions for the processing of a vehicle at the end of its life-cycle
For years now Fiat has been developing its global commitment towards the safeguarding and protection of the Environment through the continuous improvement of its production processes and the makin ...
Tow hitch installation
The towing device should be fastened to the body by specialized personnel according to any additional and/or integrative information supplied by the Manufacturer of the device. The tow hitch must ...