Through the "Service" function it is possible to receive information connected with correct vehicle maintenance.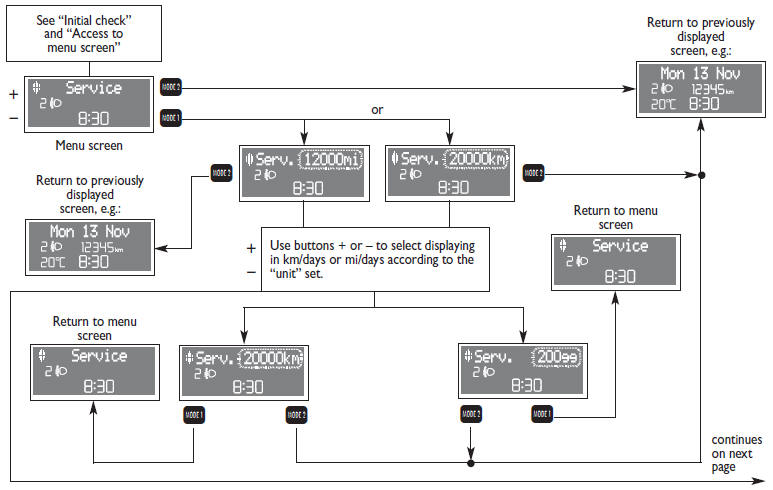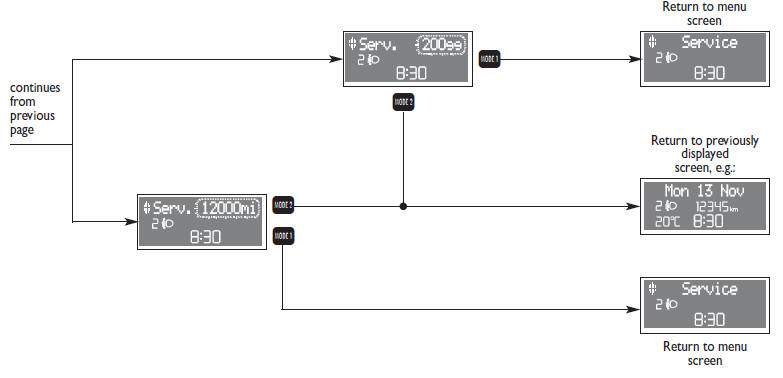 The "Service schedule" includes vehicle maintenance every 20,000 km (or 12,000 mi) or every year; this is shown automatically, with the ignition key at MAR, starting from 2,000 km (or 1,240 miles) or 30 days from this deadline and it is shown again every 200 km (or 124 mi) or 3 days. For 1.3 Multijet versions, see "Car Maintenance" in section "Service schedule to change engine oil and filter and air cleaner. Below 200 km service indications are proposed at shorter intervals. Service intervals will be displayed in km or mi according to the unit set. When a programmed maintenance interval (coupon) is near to come, turning the ignition key to MAR, will display the message "Service" followed by the number of km, or days to go before car servicing. "Scheduled servicing" message is displayed in km, miles or days according to the approaching service interval. Contact a Fiat Dealership to carry out any service operation provided by the "Service schedule" or "Annual inspection plan", and to reset the display.
See also:
Parking sensors (where provided)
Parking sensors are located in the rear bumper to detect and inform the driver (through an intermittent acoustic signal) about the presence of obstacles behind the vehicle. ACTIVATION Sensors wi ...
Left-hand direction indicator
(green - intermittent) The warning light turns on when the direction indicator control lever is moved downwards or, together with the right indicator, when the hazard warning light button is pr ...
Head restraints
Front seats According to the version, the head restraints can be: – fixed fig. 61; – adjustable in height fig. 61a. To adjust, move the head restraint upwards or downwards until it clicks. Make ...