Through the "Service" function it is possible to receive information connected with correct vehicle maintenance.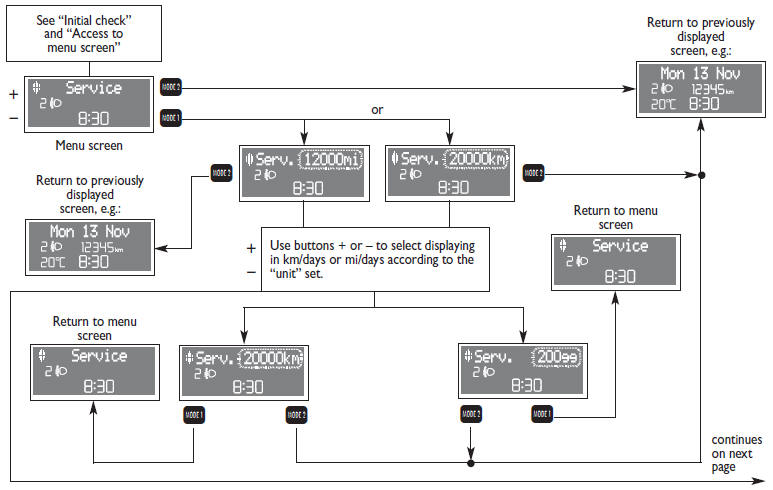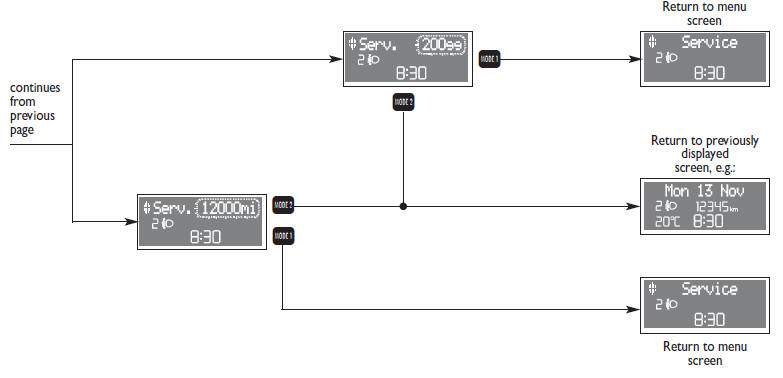 The "Service schedule" includes vehicle maintenance every 20,000 km (or 12,000 mi) or every year; this is shown automatically, with the ignition key at MAR, starting from 2,000 km (or 1,240 miles) or 30 days from this deadline and it is shown again every 200 km (or 124 mi) or 3 days. For 1.3 Multijet versions, see "Car Maintenance" in section "Service schedule to change engine oil and filter and air cleaner. Below 200 km service indications are proposed at shorter intervals. Service intervals will be displayed in km or mi according to the unit set. When a programmed maintenance interval (coupon) is near to come, turning the ignition key to MAR, will display the message "Service" followed by the number of km, or days to go before car servicing. "Scheduled servicing" message is displayed in km, miles or days according to the approaching service interval. Contact a Fiat Dealership to carry out any service operation provided by the "Service schedule" or "Annual inspection plan", and to reset the display.
See also:
Set clock
Press button h. Each pulse on the button will obtain increase by one unit. Automatic fast increase is obtained by keeping the button pressed for few seconds. When you are near the required value, ...
To Vary The Speed Setting
When the Electronic Speed Control is set, you can increase speed by pushing the RES (+) button. If the button is continually pressed, the set speed will continue to increase until the button is re ...
GROUP 0 and 0+
Babies up to 13 kg must be carried facing backwards on a cradle seat, which, supporting the head, does not induce stress on the neck in the event of sharp deceleration. The cradle is restrained by ...