The presence and the position of the instruments and warning lights may vary according to the versions.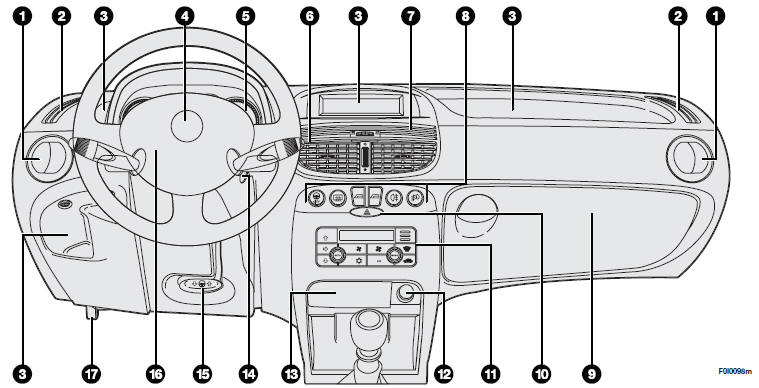 1. Side swivel vent - 2. Side fixed vent - 3. Oddment compartment - 4. Horn - 5. Instrument panel - 6. Central swivel vent - 7. Central fixed vent - 8. Central controls - 9. Glovebox - 10. Hazard light switch - 11. Controls for heating, ventilation and climate control - 12. Cigar lighter - 13. Ashtray - 14. Ignition switch - 15. Steering wheel adjustment lever - 16. Front passenger air bag - 17. Bonnet opening lever.
See also:
Blades
Periodically clean the rubber part using special products; TUTELA PROFESSIONAL SC 35 is recommended. If the rubber blades are bent or worn they should be replaced. In any case they should be chan ...
Engine oil consumption
Max engine oil consumption is usually 400 grams every 1000 km. During the beginning of the vehicle's life the engine is be tuned in. Engine oil consumption can only be considered stabilized after t ...
Set clock
To adjust the time, press button (+) to increase minutes, button (–) to decrease minutes. Every press on the button increases or decreases by one unit. Keeping the corresponding button pressed o ...