The presence and the position of the instruments and warning lights may vary according to the versions.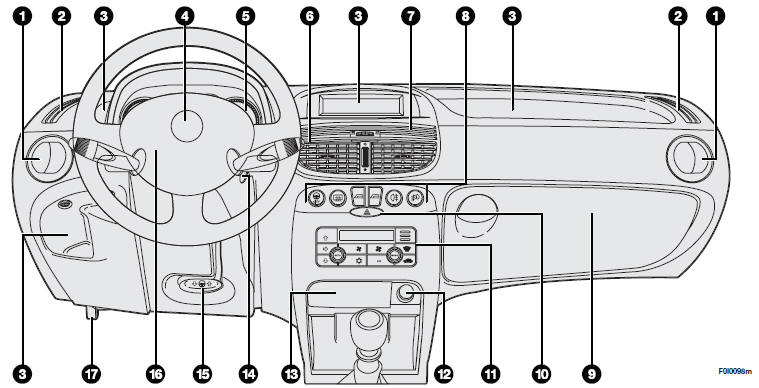 1. Side swivel vent - 2. Side fixed vent - 3. Oddment compartment - 4. Horn - 5. Instrument panel - 6. Central swivel vent - 7. Central fixed vent - 8. Central controls - 9. Glovebox - 10. Hazard light switch - 11. Controls for heating, ventilation and climate control - 12. Cigar lighter - 13. Ashtray - 14. Ignition switch - 15. Steering wheel adjustment lever - 16. Front passenger air bag - 17. Bonnet opening lever.
See also:
For checking and restoring pressure only
The compressor can be also used just for restoring pressure. Disconnect the quick connection and connect it directly to the tyre valve; in this way the cylinder is not connected to compressor and ...
ABS intervention
When braking a slight pulsing accompanied by noise may be felt on the brake pedal due to the action of the ABS system. WARNING The ABS exploits the tyre-road grip at the best, but it cannot improv ...
Refuelling
To ensure full tank refuelling, carry out two top-up operations once the delivery gun has turned off twice. Avoid further top-up operations which could cause faults in the fuel system. The car mu ...