The presence and the position of the instruments and warning lights may vary according to the versions.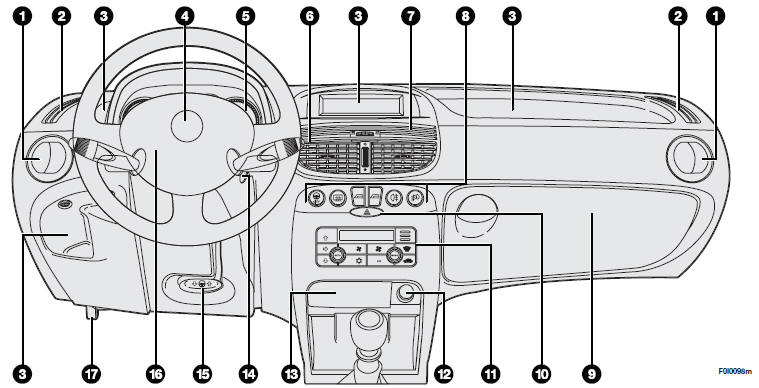 1. Side swivel vent - 2. Side fixed vent - 3. Oddment compartment - 4. Horn - 5. Instrument panel - 6. Central swivel vent - 7. Central fixed vent - 8. Central controls - 9. Glovebox - 10. Hazard light switch - 11. Controls for heating, ventilation and climate control - 12. Cigar lighter - 13. Ashtray - 14. Ignition switch - 15. Steering wheel adjustment lever - 16. Front passenger air bag - 17. Bonnet opening lever.
See also:
Seats
Seats are a part of the Occupant Restraint System of the vehicle. WARNING! • It is dangerous to ride in a cargo area, inside or outside of a vehicle. In a collision, people riding in these areas ...
Front and side airbags
The vehicle can be fitted with front air bags for the driver and passenger and with side bags. ...
Floor Mode
Air comes from the floor outlets. Aslight amount of air is directed through the defrost and side window demister outlets. Bi-Level Air is directed through the panel and floor outlets. Press an ...