The presence and the position of the instruments and warning lights may vary according to the versions.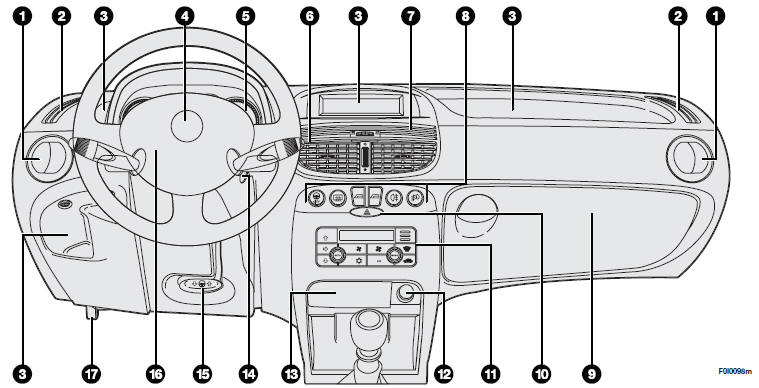 1. Side swivel vent - 2. Side fixed vent - 3. Oddment compartment - 4. Horn - 5. Instrument panel - 6. Central swivel vent - 7. Central fixed vent - 8. Central controls - 9. Glovebox - 10. Hazard light switch - 11. Controls for heating, ventilation and climate control - 12. Cigar lighter - 13. Ashtray - 14. Ignition switch - 15. Steering wheel adjustment lever - 16. Front passenger air bag - 17. Bonnet opening lever.
See also:
Refuelling
To ensure full tank refuelling, carry out two top-up operations once the delivery gun has turned off twice. Avoid further top-up operations which could cause faults in the fuel system. The car mu ...
To reduce memorised speed
The speed memorised can be increased in two ways: ❒ disengaging the device and then memorising the new speed; or ❒ keeping the ring (B) pressed at (–) until reaching the new speed whi ...
Floor Mat Safety Information
Always use floor mats designed to fit the footwell of your vehicle. Use only floor mats that leave the pedal area unobstructed and that are firmly secured so that they cannot slip out of position ...