The spare tire is stowed to the underbody below the cargo area.
1. Remove the plug located in the rear cargo area.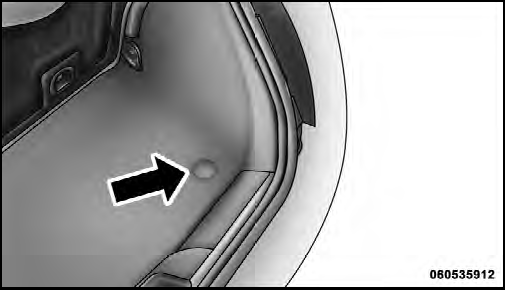 Winch Access Plug
2. Fit the wrench tool over the drive nut. Use the wrench to rotate the nut counterclockwise until the spare is on the ground with enough slack in the cable to allow you to pull the tire out from under the vehicle.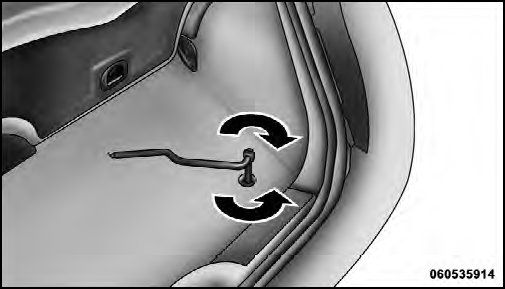 Lowering/Raising Spare Tire

CAUTION!
The winch mechanism is designed for use with the jack wrench tool only. Use of an air wrench or other power tools is not recommended and they can damage the winch.
3. Pull the spare tire out from under the vehicle.

Spare Tire
4. When the spare is clear, remove the knob or plastic molded nut by rotating it counter-clockwise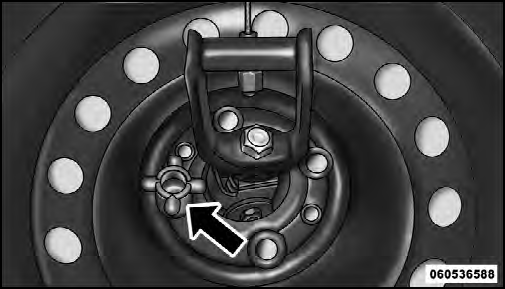 Plastic Molded Nut
5. Tilt the retainer at the end of the cable and pull it through the center of the wheel.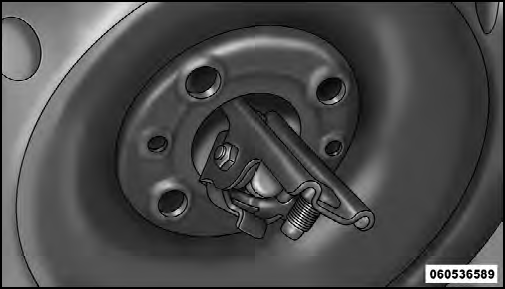 Retainer
See also:
Windshield Wipers And Washers
The windshield wiper/washer lever is located on the right side of the steering column. NOTE: The windshield wipers/washers will only operate with the ignition in the ON/RUN position. ...
Button volume (Keys Volume)
The volume of the roger-beep accompanying the activation of certain buttons can be adjusted according to 8 levels. The roger-beep can be adjusted and excluded. To adjust the volume proceed as foll ...
General considerations
Car maintenance Have checks and adjustments carried out in accordance with the "Service schedule". Tyres Check the pressure of the tyres routinely at an interval of no more than 4 weeks: if the p ...