The spare tire is stowed to the underbody below the cargo area.
1. Remove the plug located in the rear cargo area.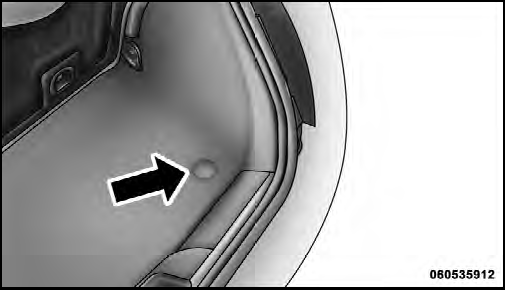 Winch Access Plug
2. Fit the wrench tool over the drive nut. Use the wrench to rotate the nut counterclockwise until the spare is on the ground with enough slack in the cable to allow you to pull the tire out from under the vehicle.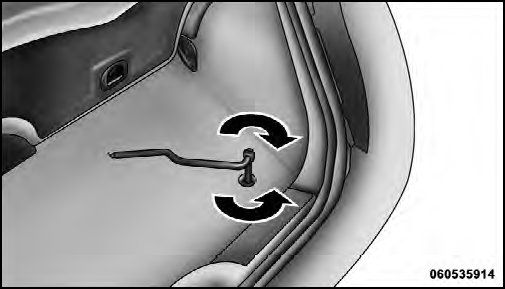 Lowering/Raising Spare Tire

CAUTION!
The winch mechanism is designed for use with the jack wrench tool only. Use of an air wrench or other power tools is not recommended and they can damage the winch.
3. Pull the spare tire out from under the vehicle.

Spare Tire
4. When the spare is clear, remove the knob or plastic molded nut by rotating it counter-clockwise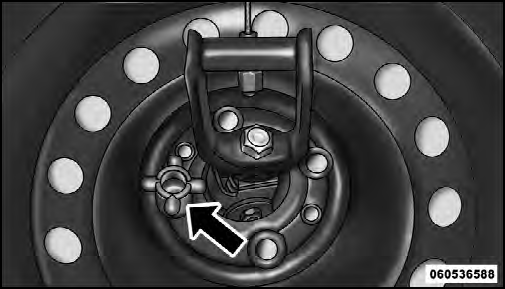 Plastic Molded Nut
5. Tilt the retainer at the end of the cable and pull it through the center of the wheel.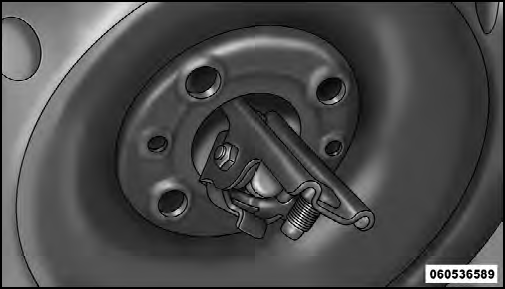 Retainer
See also:
Rear Park Assist Alerts
If an obstacle is behind the vehicle when REVERSE gear is engaged, an audible alert is activated. The tones emitted by the loudspeaker inform the driver that the vehicle is approaching an obstacl ...
Instrument Panel Bezels
CAUTION! When installing hanging air fresheners in your vehicle, read the installation instructions carefully. Some air fresheners will damage the finish of painted or decorated parts if allowed ...
Radio
(Tuner) Introduction When the car radio is turned on, the last function that was selected before turning it off (Radio, CD, CD MP3, AUX) is activated. To select the Radio function when another aud ...