The spare tire is stowed to the underbody below the cargo area.
1. Remove the plug located in the rear cargo area.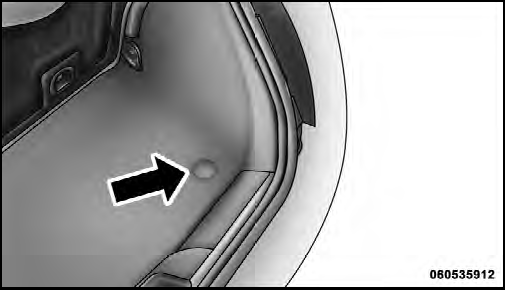 Winch Access Plug
2. Fit the wrench tool over the drive nut. Use the wrench to rotate the nut counterclockwise until the spare is on the ground with enough slack in the cable to allow you to pull the tire out from under the vehicle.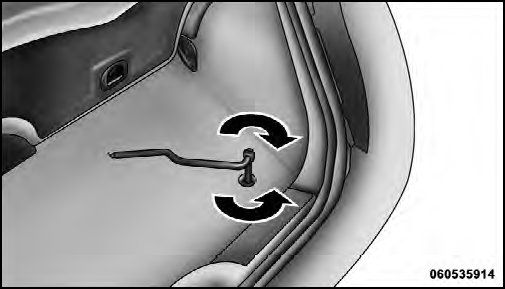 Lowering/Raising Spare Tire

CAUTION!
The winch mechanism is designed for use with the jack wrench tool only. Use of an air wrench or other power tools is not recommended and they can damage the winch.
3. Pull the spare tire out from under the vehicle.

Spare Tire
4. When the spare is clear, remove the knob or plastic molded nut by rotating it counter-clockwise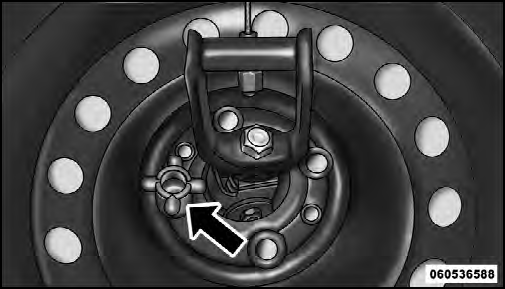 Plastic Molded Nut
5. Tilt the retainer at the end of the cable and pull it through the center of the wheel.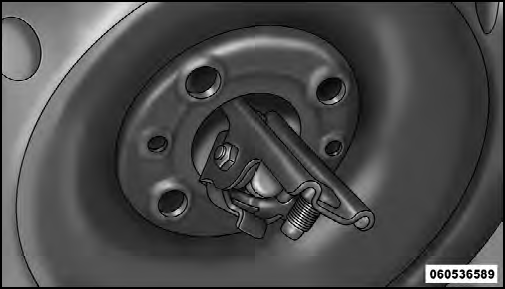 Retainer
See also:
Bodywork
PROTECTION FROM ATMOSPHERIC AGENTS The main causes of rust are: Ц atmospheric pollution Ц salt and humidity in the atmosphere (coastal or very hot and humid areas) Ц environmental conditions that ...
Using the seat belts
The belt should be worn keeping the chest straight and rested against the seat back. To fasten the belt, take hold the tongue (A) and insert it into the buckle (B), until hearing the locking cl ...
Base System
This is the TPMS warning indicator located in the instrument cluster. The TPMS uses wireless technology with wheel rim mounted electronic sensors to monitor tire pressure levels. Sensors, mounte ...