The spare tire is stowed to the underbody below the cargo area.
1. Remove the plug located in the rear cargo area.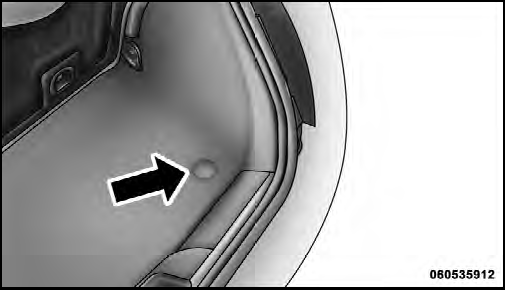 Winch Access Plug
2. Fit the wrench tool over the drive nut. Use the wrench to rotate the nut counterclockwise until the spare is on the ground with enough slack in the cable to allow you to pull the tire out from under the vehicle.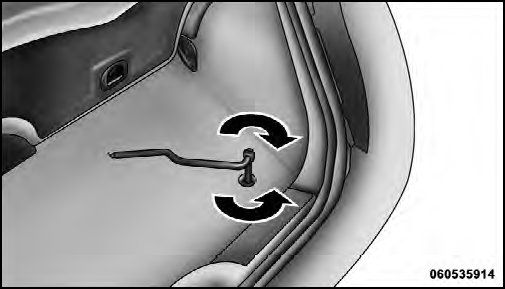 Lowering/Raising Spare Tire

CAUTION!
The winch mechanism is designed for use with the jack wrench tool only. Use of an air wrench or other power tools is not recommended and they can damage the winch.
3. Pull the spare tire out from under the vehicle.

Spare Tire
4. When the spare is clear, remove the knob or plastic molded nut by rotating it counter-clockwise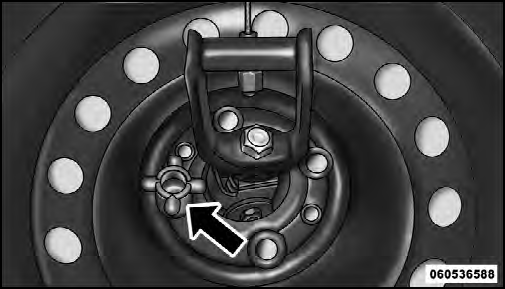 Plastic Molded Nut
5. Tilt the retainer at the end of the cable and pull it through the center of the wheel.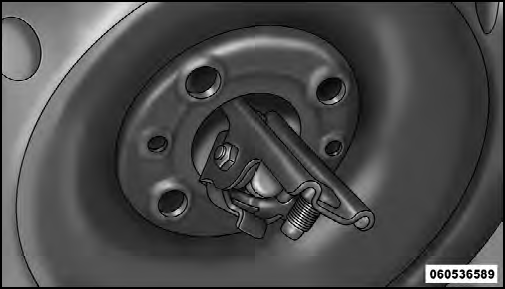 Retainer
See also:
Glow plug warming
(Multijet versions - amber) GLOW PLUG WARMING FAILURE (Multijet versions - amber) Spark plug pre-heating Turning the ignition key to MAR, the warning light turns on and it will turn off when gl ...
Roof rack/ski rack
PRESETTING To use the roof racks you shall remove the caps set in points fig. 136. Attach the roof rack bar brackets to the fasteners. IMPORTANT Always follow the instructions provided with the ki ...
E-85 Usage In Non-Flex Fuel Vehicles
Non-FFV vehicles are compatible with gasoline containing 10% Ethanol (E10). Gasoline with higher Ethanol content may void the vehicle's warranty. If a Non-FFV vehicle is inadvertently fueled with E ...