The gas cap is located on the passenger side of the vehicle. If the gas cap is lost or damaged, be sure the replacement cap is the correct one for this vehicle.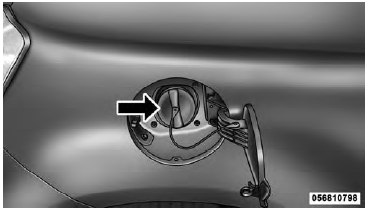 Fuel Filler Cap

CAUTION!
• Damage to the fuel system or emission control system could result from using an improper fuel cap (gas cap). A poorly fitting cap could let impurities into the fuel system. Also, a poorly fitting aftermarket cap can cause the "Malfunction Indicator Light (MIL)" to illuminate, due to fuel vapors escaping from the system.
• To avoid fuel spillage and overfilling, do not "top off" the fuel tank after filling.

WARNING!
• Never have any smoking materials lit in or near the vehicle when the gas cap is removed or the tank is being filled.
• Never add fuel when the engine is running. It may cause the MIL to turn on and could cause a fire.
• A fire may result if gasoline is pumped into a portable container that is inside of a vehicle. You could be burned. Always place gas containers on the ground while filling.

NOTE:
• When the fuel nozzle "clicks" or shuts off, the fuel tank is full.
• Tighten the gas cap about 1/4 turn until you hear one click. This is an indication that the cap is properly tightened.
• If the gas cap is not tightened properly, the MIL will come on. Be sure the gas cap is tightened every time the vehicle is refueled.
See also:
Possible presence of ice on the road
Warning message will appear and temperature indication will flash on the display when the outside temperature reaches or falls below 3°C to warn the driver of the possible presence of ice on the ...
Accessories purchased by the owner
If after buying the car, you decide to install electrical accessories that require a permanent electric supply (alarm, satellite antitheft system, etc.) or accessories that in any case burden the ...
Trip computer
Pressing button , the "Trip computer" function gives is displayed, information relating to the operating status of the car. This function is resettable. Values displayed are: Range to empty, Di ...