The remote sound system controls are located on the rear surface of the steering wheel. Reach behind the wheel to access the switches.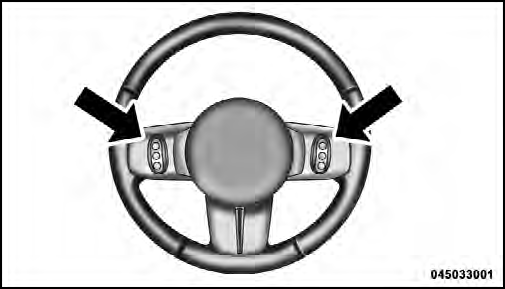 Remote Sound System Controls (Back View Of Steering Wheel)
The right-hand control is a rocker-type switch with a pushbutton in the center and controls the volume and mode of the sound system. Pressing the top of the rocker switch will increase the volume, and pressing the bottom of the rocker switch will decrease the volume.
Pressing the center button will make the radio switch between the various modes available (AM/FM/SAT/ CD/AUX/Media Player, etc.) and can also be used to select/enter an item while scrolling through menu.
The left-hand control is a rocker-type switch with a pushbutton in the center. The function of the left-hand control is different depending on which mode you are in.
The following describes the left-hand control operation in each mode.
See also:
Heated Mirrors — If Equipped
These mirrors are heated to melt frost or ice. This feature is activated whenever you turn on the rear window defroster. Refer to "Rear Window Features" in "Understanding The Features Of Your Ve ...
Installation of electric / electronic devices
Electric/electronic devices installed after buying the car or in aftermarket shall bear the and marking: Fiat Auto S.p.A. authorizes the installation of transceivers provided that installation ...
Buzzer volume (Buzzer Vol)
The volume of the buzzer accompanying any failure/warning indication can be adjusted according to 8 levels. The buzzer can be adjusted and, in certain cases, it cannot be excluded. To adjust the v ...