The remote sound system controls are located on the rear surface of the steering wheel. Reach behind the wheel to access the switches.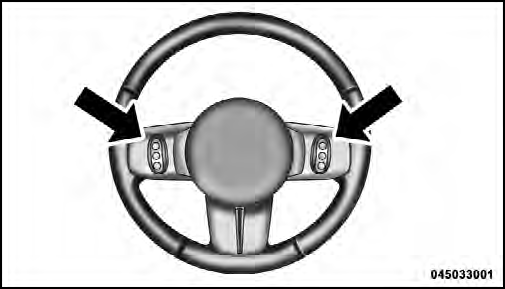 Remote Sound System Controls (Back View Of Steering Wheel)
The right-hand control is a rocker-type switch with a pushbutton in the center and controls the volume and mode of the sound system. Pressing the top of the rocker switch will increase the volume, and pressing the bottom of the rocker switch will decrease the volume.
Pressing the center button will make the radio switch between the various modes available (AM/FM/SAT/ CD/AUX/Media Player, etc.) and can also be used to select/enter an item while scrolling through menu.
The left-hand control is a rocker-type switch with a pushbutton in the center. The function of the left-hand control is different depending on which mode you are in.
The following describes the left-hand control operation in each mode.
See also:
Child lock
To prevent opening the sliding side doors from the inside. Engage by inserting the tip of the ignition key as shown in fig. 113 and turning it. Position 1 - device off. Position 2 - device on. T ...
To Set A Desired Speed
Turn the Electronic Speed Control ON. When the vehicle has reached the desired speed, press the SET (-) button and release. Release the accelerator and the vehicle will operate at the selected spe ...
6. Park/Headlight ON Indicator / Follow Me Home(Headlight Delay) Indicator — If Equipped
This indicator will illuminate when the park lights or headlights are turned on. If the Follow Me Home feature is activated this indicator will illuminate and the EVIC will show how long the fun ...