The remote sound system controls are located on the rear surface of the steering wheel. Reach behind the wheel to access the switches.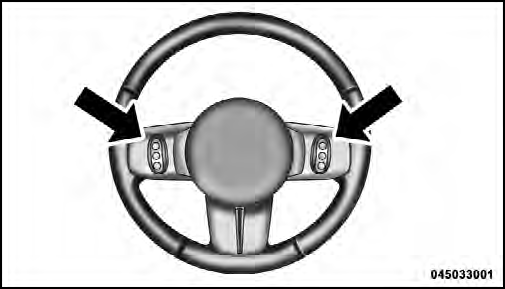 Remote Sound System Controls (Back View Of Steering Wheel)
The right-hand control is a rocker-type switch with a pushbutton in the center and controls the volume and mode of the sound system. Pressing the top of the rocker switch will increase the volume, and pressing the bottom of the rocker switch will decrease the volume.
Pressing the center button will make the radio switch between the various modes available (AM/FM/SAT/ CD/AUX/Media Player, etc.) and can also be used to select/enter an item while scrolling through menu.
The left-hand control is a rocker-type switch with a pushbutton in the center. The function of the left-hand control is different depending on which mode you are in.
The following describes the left-hand control operation in each mode.
See also:
25. Temperature Gauge
The temperature digital scale shows engine coolant temperature. Any reading within the normal range indicates that the engine cooling system is operating satisfactorily. The gauge pointer will lik ...
Loose Fuel Filler Cap Message
After fuel has been added, the vehicle diagnostic system can determine if the fuel filler cap is possibly loose, improperly installed, or damaged. If the system detects a malfunction, the УgASCAPФ ...
Important notes
As far as possible avoid sharp braking and screech starts. Be careful not to hit the kerb, potholes or other obstacles hard. Driving for long stretches over bumpy roads can damage the tyres. Perio ...