The remote sound system controls are located on the rear surface of the steering wheel. Reach behind the wheel to access the switches.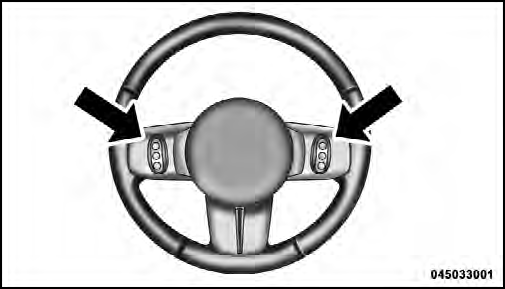 Remote Sound System Controls (Back View Of Steering Wheel)
The right-hand control is a rocker-type switch with a pushbutton in the center and controls the volume and mode of the sound system. Pressing the top of the rocker switch will increase the volume, and pressing the bottom of the rocker switch will decrease the volume.
Pressing the center button will make the radio switch between the various modes available (AM/FM/SAT/ CD/AUX/Media Player, etc.) and can also be used to select/enter an item while scrolling through menu.
The left-hand control is a rocker-type switch with a pushbutton in the center. The function of the left-hand control is different depending on which mode you are in.
The following describes the left-hand control operation in each mode.
See also:
"Dualdrive" electric power steering system
The electric power steering only works when the ignition key is at MAR and the engine is running. A new electrically controlled power steering system called "Dualdrive" is fitted on the Fiat Pun ...
Cleaning The Rear Park Assist System
Clean the Rear Park Assist sensors with water, car wash soap and a soft cloth. Do not use rough or hard cloths. In washing stations, clean sensors quickly keeping the vapor jet/high pressure washi ...
Diesel engines
Use diesel fuel for motor vehicles complying with European specifications EN590 only. The use of other products or mixtures may damage the engine beyond repair and invalidate the warranty. If th ...