To open the hood, two latches must be released.
1. Pull the bottom of the RED hood release lever, located on the left kick panel, rearward.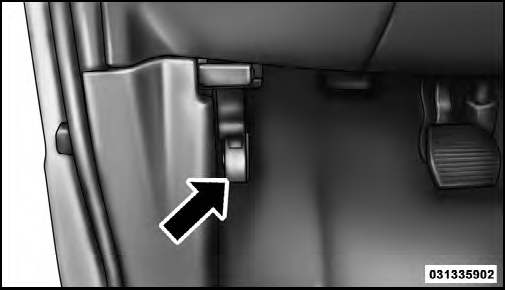 Hood Release Lever
2. Rotate the safety catch under the front edge of the hood, near the center, and raise the hood.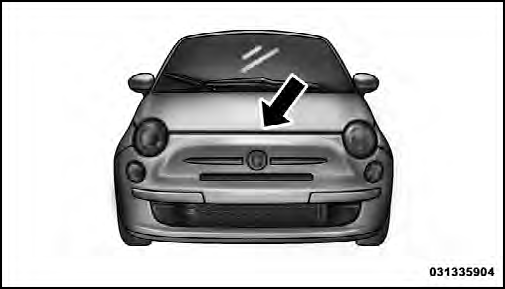 Safety Latch Location
Lift the hood prop rod that clips to the right side (left side when standing in front of the hood) of the engine compartment. Place the hood prop rod in the hole of hood hinge to secure the hood in the open position.
In hot climates, the prop rod may be hot. Pick up the prop rod at the foam on the end of the prop rod.

WARNING!
Be sure the hood is fully latched before driving your vehicle. If the hood is not fully latched, it could open when the vehicle is in motion and block your vision.
Failure to follow this warning could result in serious injury or death.

CAUTION!
To prevent possible damage, do not slam the hood to close it. Lower the hood until it is open approximately 8 in (20 cm) and then drop it. This should secure both latches. Never drive your vehicle unless the hood is fully closed, with both latches engaged.
See also:
EPS system operation
The ESP system is automatically inserted when the car is started and cannot be de-activated. ...
Instruments
Instrument background and type can change according to versions. ...
Cylinder replacement procedure
To replace the cylinder proceed as follows fig. 16h: – disconnect connection A; turn counter-clockwise the cylinder to replace and raise it; fit the new cylinder and turn it clockwise; connect conn ...