To raise the head restraint, pull upward on the head restraint. To lower the head restraint, press the push button, located at the base of the head restraint, and push downward on the head restraint. Refer to "Occupant Restraints" in "Things To Know Before Starting Your Vehicle" for information on tether routing.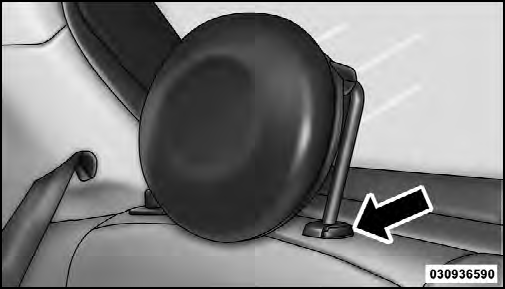 Rear Head Restraint
See also:
How to use the gears
Press the clutch fully before shifting the gear stick into one of the positions shown in the diagram in fig. 2 (the diagram is also on the gear lever knob). IMPORTANT Only engage the reverse gear ...
Traction Control System (TCS)
This system monitors the amount of wheel spin of each of the driven wheels. If wheel spin is detected, brake pressure is applied to the slipping wheel(s) and engine power is reduced to provide enh ...
Starting procedure for petrol versions
1) Ensure that the handbrake is up. 2) Put the gear lever into neutral. 3) Press the clutch pedal fully down, without pressing the accelerator. 4) Turn the ignition key to AVV and let it go the mom ...