To raise the head restraint, pull upward on the head restraint. To lower the head restraint, press the push button, located at the base of the head restraint, and push downward on the head restraint. Refer to "Occupant Restraints" in "Things To Know Before Starting Your Vehicle" for information on tether routing.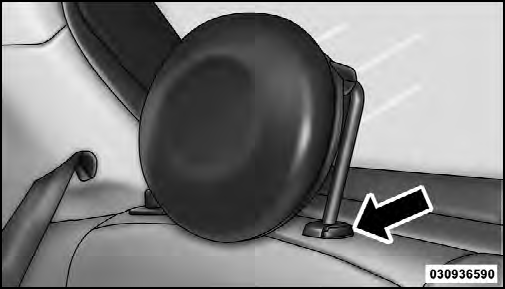 Rear Head Restraint
See also:
Warranty Information
See the Warranty Information Booklet, located on the DVD, for the terms and provisions of FIAT Group Automobiles warranties applicable to this vehicle and market. ...
Knee Impact Bolster
The Knee Impact Bolster helps protect the knees of the passenger side front passenger by positioning the passenger for the best interaction with the Advanced Front Air Bags. Along with seat belts ...
Starting Procedures
Before starting your vehicle, adjust your seat, adjust both inside and outside mirrors, and fasten your seat belts. WARNING! Never leave children in the vehicle alone. Leaving unattended children ...